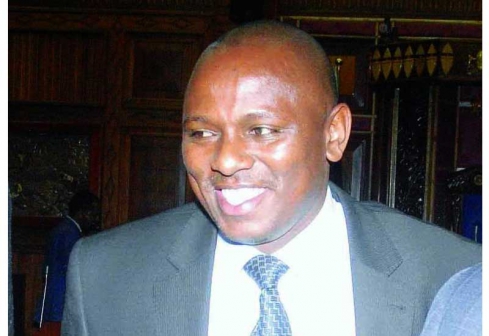 Kenya has one 'new' Member of Parliament even before voters queue on August 8. That man who is assured of a seat in the august House after the General Election is Kimani Ichungwa, whom the IEBC has already listed as the Kikuyu MP in a gazette notice.
Ichungwa has no opponent from any party, not even an independent candidate gunning for the seat against him! This means the August 8 elections are a walkover for Ichungwa who had many things going for him. His only challenger could have been Paul Wandere of Safina Party.
Wandere was gearing up for the Kiambu Governor's seat "but my supporters urged me to go for the Kikuyu MP's seat, and when I presented my nomination papers to the IEBC, I was stopped from running against the incumbent," says Wandere who blames IEBC for being unfair because "I was ready to battle it out with the incumbent and was gaining ground."
Ichungwa's biggest advantage, according to local pundits, is his development record, coupled with his fearless articulation of issues and perceived proximity to the presidency, which he defends with unflagging zeal.
Simon Wainaina, a resident of Kikuyu is of the opinion that Ichungwa's popularity is pegged on his staunch defense of President Uhuru Kenyatta and the development record of the Jubilee Party. "He has proven that he is a leader who can defend uthamaki and do his job well even at the national level," says Wainaina.
James Njuguna, a resident of Kikuyu township, told The Nairobian that his constituents fully support the MP because of his dedication to improve education through allocation of bursaries and good use of CDF funds in the area.
"I fully support his re-election bid because he has increased the number of classrooms in schools, toilets are well built and there is no favouritism in the allocation of bursaries compared to the previous years. He makes sure that it is equally distributed. In addition, he is readily accessible. No one who has the interest of ousting him has the capacity to challenge him and that's why he has no challenger," Njuguna said.
The alumnus of Alliance High School and the University of Nairobi has served as the vice chair of the Public Investment Committee in Parliament and is said to have kept his opponents on their toes due to his financial prudence, which he has used to handle various development projects in his constituency.
His zeal for education through distribution of bursaries to the needy and construction of classes in different wards in his constituency have also stood him in good stead.
Interestingly, the politician has traction when it comes to women in his constituency owing to his dimples, the fearless trait and grandiloquence which makes him stand out in various political debates in the media.
Related Topics