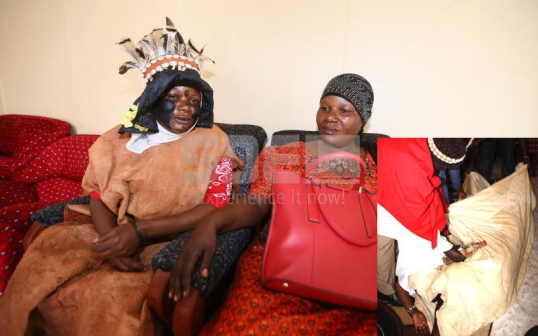 A woman has confessed she was behind her husband 'getting stuck' during sex when he was busted romping with his sister-in-law at a Nakuru lodging.
Margret Nabwire, 50, revealed that she sought the services of a witchdoctor to tame her husband, Joseph Nyakundi, who had a roving eye.
Nabwire says she was shocked when she received a call informing her that her husband was 'stuck with a woman' at a lodging and the woman in question was her sister.
"I suspected that my husband was having an affair but I did not expect that it would be with my sister", said an emotional Nabwire, adding that she was introduced to the witchdoctor, Anne Mutheu, by a friend who claimed she had the powers to tame her husband.
It is alleged Mutheu gave Nabwire charms that ensured her husband would get stuck if he slept outside their matrimonial bed. True to her word, the two lovebirds, who were carried in bedsheets, were taken to Mutheu's house so that she could separate them.
"He left home a week ago claiming that he was going to Mombasa for business, only to be nabbed in Nakuru. That means they have been coming to Nakuru often, because some people know him in the area," said Nabwire, adding that her husband was spending all his money on women.
"A few months ago, he sold a parcel of our land for Sh800,000. The money was meant to pay school fees for our kids, but I later learnt he spent all the money with his women. I was angry and decided to seek the services of Mutheu to teach him a lesson," she told The Nairobian.
Mutheu, who managed to separate the two claimed most of her clients are women.
Related Topics