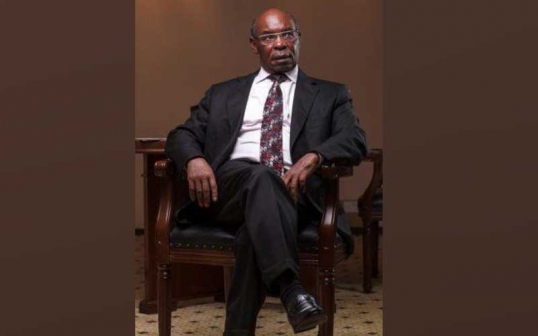 Business mogul SK Macharia was cursed by a Council of Elders for purportedly betraying the Kikuyu community three months ago. SK, a prominent Kikuyu businessman, has been an open supporter of Raila Odinga, a Luo.
SK was given 90s days to start facing calamities, which elapsed on May 1. But so far no calamities have been reported since the curse ritual was conducted at Ndaka-ini area near SK's home in Gatanga, Murang'a County, on January 31, 2017.
The ritual curse was conducted by Kiarie wa Rugami, the chair of Kiama Kia Ma (Council of the Truth), a splinter group of the Kikuyu Council of Elders.
SK's crime was pegged on 'failing to apologise' for the 'inflammatory statements' he made in the National Assembly on January 3, when he said, among other things, that Raila, not retired Mwai Kibaki, had won the 2007 General Election.
During the ritual, a goat was pierced with a horn while incantations were made before the elders announced they had cursed his business empire, which includes Royal Media Services, and as well his generations.
However, Kikuyu Council of Elders chairman Wachira Kiago blasted the rite as unjustified and said it was wrong to extend it to his generations.
Rugami claims every avenue was used to get SK to apologise, but he allegedly declined.
"Where were these elders when we asked, through paid adverts, who had alternative way? None came out, so we proceeded with the rite," says Rugami, clarifying that they gave no time period and the unspecified misfortunes are "still on."
"We didn't give a time frame of 90 days. Whoever said that lied. We conducted the ritual and the rest was left to God. God is left to do his work without conditions, and we know any time calamities can strike him," says Rugami, adding that SK was cursed for making statements bound to trigger violence particularly on the Kikuyu community, a prospect that was not taken lightly by Kiama Kia Ma who demanded an apology and retraction of the claims.
Rugami says the entire sacrificial goat was burnt and that means the curse is irreversible and nothing can be done to save him. "Even if he was to apologise today, it is already too late. The ritual is irreversible as no feasting happened.
"The sacrifice was burnt completely for the gods. If we feasted it would be reversible," he clarifies, noting that he knows there are priests praying for SK and promising to reverse the rite but "That will not be possible. They are lying to him."
Related Topics