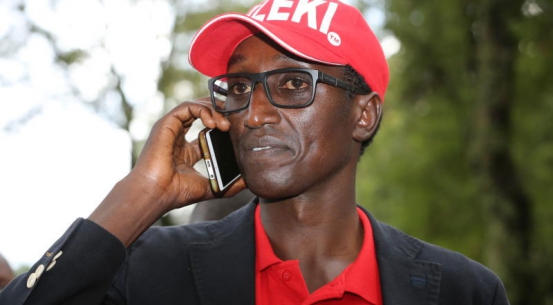 The name 'Buzeki' is derived from his full name – Bundotich Zedekiah Kiprop. He is the founder of Buzeki Group of Companies, which specialises in transport and dairy products.
"I am just a humble entrepreneur seeking political leadership as an agent of change to eradicate poverty in the region. I am a self-made individual who rose from a mere milk hawker in Mombasa to my current economic stature," says the man who owns 100 pedigree cows on his Ainabkoi farm.
So, how did he become billionaire while still in his 30s?
"I rose from obscurity. I used to hawk milk in Mombasa on a bicycle at night," he told The Nairobian, saying his single mother played an integral part in moulding his childhood.
As the regional dairy sales manager for Kilifi Plantations between 1998 and 2000, he led an aggressive sales team and ensured successful milk sales volumes record, driving the company to profitability and cornering 80 percent of the milk market at the Coast.
He pioneered the introduction of Tuzo Milk and became the largest milk distributor in Coast Province for Spin Knit Kenya Limited (Tuzo holding company).
In 2004, he diversified into the transport business under Buzeki Enterprises Limited and managed to get contracts with corporate institutions like Bamburi Cement Ltd, UN-WFP among others.
In May 2008, he initiated a processing and packaging division for dairy products named Buzeki Dairy Limited and acquired the first plant in Kilifi with a production output of 25,000 litres daily under the brand name New Kilifi Gold.
Two year later, in 2010, he acquired a second plant located in Mau Summit, Molo with a production output of 80,000 litres per day under the brand name Molo Milk.
Regarding the sale of his Molo Milk brand to Brookside Diaries, Buzeki says it was the right time to sell the company but blames Uasin Gishu county politicians for denying locals the chance to own the company.
"I wanted the locals to have the benefit of the county owning the company. Uasin Gishu people lost a chance to have an investment that would have helped the farmers. Another interested party came and bought it. Its business. Nothing is wrong with that," he says.
Buzeki holds a higher international diploma in Sales and Marketing from Cambridge University and a degree in sales and marketing. He says there is so much propaganda aimed at him because of his aspiration to be governor.
"For instance, I was never expelled from Mangu School and I have never done drugs in my life. People are making up stories, they want to taint my image because my opponents know I am a very strong candidate," he says.
He scoffs at rumours that he was a wild youth whose life was laced with drugs, alcohol and reckless behaviour.
"Where are these people who say I did this and that? Why can't they come in the open and say it to my face? Everyone has a past, but my past is quite boring, not as colourful as the stories people make up," he insists, saying he doesn't even drink alcohol.
The man who jogs 5km every day says he is a philanthropist who pays fees for hundreds of children every year.
"Since I started paying fees, I have probably paid fees for thousands of school children. There is no single ward in Uasin Gishu where I haven't built either several churches or a school," he says.
Related Topics