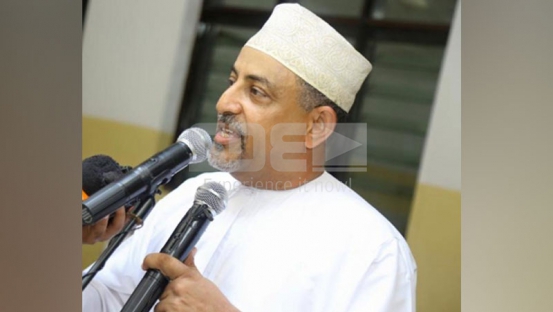 Did Joho pull a first one on you by making a highly-publicised tour of the United States after insinuations that he was involved in the drugs business?
All 47 governors travel out of the country, but we are never treated to homecoming theatrics like the one Joho held when he arrived from the US.
This drama that he is used to just goes to show that he has no substance. He is simply hiding the fact that he is incapable of leading the county.
Word on the street is that Nyali MP Awiti Bolo, who is also running for governor, can beat Joho, but you can't?
Awiti is running a campaign along very narrow sectarian and religious lines. He has no idea of what it takes to run a campaign across six constituencies as he has only participated in a parliamentary election.
He imagines that he will be the only upcountry candidate running against various Muslim candidates. He needs to know that Coast people do not vote on religious lines, although, unfortunately, they still subscribe to tribal affiliations.
So, if Hassan Omar stands as the 'Kamba' candidate and Joho stands as the 'Luo/Luhya,' candidate, where does that leave you?
In 2013, we managed to get over 100,000 votes from cosmopolitan voters out of the total 270,763 votes cast in an election that was contested by eight candidates.
Arabs do not account for much of the population and fewer still vote. I therefore can declare that the bulk of my supporters are non-Arabs in Mombasa who believe in me.
Where, in your view, did Joho go wrong as a governor?
He never had a clear agenda. The current government has raised tensions between Muslims and Christians. Imagine, they even hiked fees for crusades! Are they that desperate that they need to overcharge evangelists to run the county effectively?
They did the same for small-scale businesses like tuk-tuks, while they let the county be overrun by gangs and cartels selling drugs to the youth. They cannot even keep the county clean. The leadership in this county lacks vision.
What will you change?
My agenda, when I take over from Joho, will be empowering the youth, attracting investment and improving service delivery.
We will turn Mombasa into a Dubai and within 100 days, set the pace and clear the mess created by the current government. We will break ground for a free trade zone, lower and cancel ridiculous taxes and contracts on public housing.
Do you and Governor Joho ever share a cup of tea?
We are friends! We mingle in many forums, including a wedding in Dubai, which spawned a picture which did rounds online.
The truth is that I want to throw him out of office and he knows it. But we are obliged as leaders to regard each other with civility.
How do you propose to deal with the endemic drug menace at the Coast?
Most families have been affected by drugs in this region, including mine. I have had people die from drugs from both my mother's and father's side.
I have always been a proponent of stricter legislation to deal with drugs. Dealers should have their property confiscated to make it very expensive to dabble in this business. Countries that have succeeded have made the menace a capital offence.
This election year, Pwani si Kenya stories have not surfaced. Why?
This secessionist agenda is narrow-minded and has been overtaken by events. We have a devolved system that is delivering services to the mwananchi.
Pwani ni Kenya and as the coastal community, we are joined at the hip to the rest of the country.
People say you are aloof and inaccessible to the common man...
That is a fallacy created by my political enemies to discredit my achievements. I am a man of the people, from a modest family with limited means, just like our neighbours were when I was growing up.
I still maintain friends from long before my bid for the governor of Mombasa. But I do not mingle with disreputable company.
It is believed that you were behind Joho's legal problems after the 2013 election, that you sponsored Silas Otuke and others to sue him...
Otuke was concerned that Joho's degree, whose authenticity he questioned, would compromise the integrity of degrees from Uganda in general and that is why he sued him on his own volition.
But I will not deny knowing him. Besides, my enemy's enemy is my friend!
Are you married? How do you unwind after a busy day?
I used to play golf, but I cannot afford the time anymore. I therefore read at every opportunity. I have four children, two of whom I make a point of seeing every morning and evening when I am in the country.
I call them twice as well when I am away. The other children are grown up, so I visit whenever I can. I involve my wife in whatever I am doing and she gives me invaluable advice.
Coastal leaders claim the proposed coal project in Lamu in which you are involved is detrimental to the environment. Why coal when everyone is going green?
We are using very safe technology which does not degrade the environment. Our smoke stacks are designed at 200 metres high, eliminating the danger of smoky smog in the environment.
You have changed parties a record three times. Doesn't that make you an unprincipled party hopper?
Initially, I was attracted to ODM policies, only to realise that there was zero democracy in that party.
They have mortgaged the party to the Johos, so there is no way I could get a fair nomination. The Jubilee Party is a new outfit offering the opportunity to create a new philosophy and agenda.
Related Topics