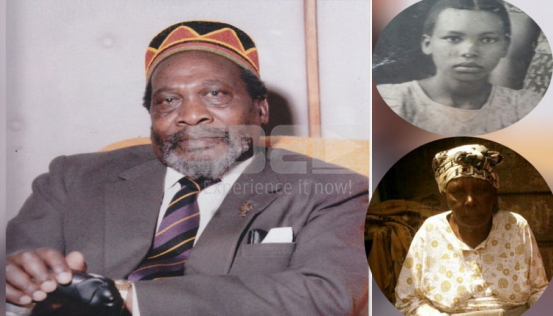 President Uhuru Kenyatta's son, Jomo, married in a traditional ceremony the other day.
But his grandfather, founding President Mzee Jomo Kenyatta, was not so lucky when he tried professing his love to one of his female students after returning from England over 60s years ago.
At the time, the 'old lion' was the principal of the first college for Africans, the Kenya Teachers Training College in Githunguri, Kiambu County where the object of his affection was Esther Wanjeri, now 84.
The fetching beauty was studying embroidery at the college where Jomo proposed to her. The 18-year old turned him down. The future president sobbed, tears rolling down his cheeks in an affair that Wanjeri has kept secret for 66 years.
Canadian singer Celine Dion crooned that, 'Love doesn't ask why/It speaks from the heart/And never explains.../Love doesn't think twice/It can come all at once.'
Esther Wanjeri stuck with the love of his life at the time- a farmer named Kamau. Kenyatta went on to become Kenya's founding president.
"Our great friendship started while I was a young girl at the college after Mzee Kenyatta succeeded Mbiyu Koinange as the principal," recalls the woman who, in retrospect, doesn't regret her decision."He used to come for supper to our house which was adjacent to the college. They were close buddies with my father the late Kibunja Kinuthia."
Wanjeri told The Nairobian that she turned down Mzee Kenyatta's overtures because of just that: he was a Mzee.
"I felt uncomfortable whenever he approached me, especially his unkempt beard," offers Wanjeri. "There is no way I could have married someone who was that old, but he knew how to tune a woman and he was a great man."
Their relationship, she said, began when her father asked her to prepare food for Kenyatta, the college principal. She would serve him roasted bananas.
"When I joined the college in the 1940s to get my training in embroidery, I met Jomo who often professed his love whenever I took food for him and praised my cooking and serving skills.
He would be my chaperon on my way home and used to tell me I was the ideal woman for him even though I turned him down all the time," she recalls, adding "I remember at some point he got mad at me and went to his house crying... he would always remind me that I rejected his love whenever we met on the road. His daughter, Wambui Kenyatta would come and tell me that his father was hurting because I had refused to marry him and that's when I realised I had broken his heart."
Wambui was Kenyatta's link recalls Wanjeri as "Wambui knew very well how his father loved me and Jomo often sent her to convince me to marry him because she was my great friend".
When Wanjeri later married Mzee Kamau, a farmer, it was game short for Jomo Kenyatta.
Wanjeri and Kamau were blessed with 10 kids and "My children are thrilled whenever I narrate to them how I met Jomo Kenyatta and they always ask me why our relationship ended yet our love story seemed so beautiful", she laughs at the recollection.
"When he realised that I wasn't ready to marry him that's when he brought Mama Ngina from Chief Muhoho's family and told me to help her become beautiful like me and teach her how to serve food because I had refused to marry him and I obeyed him because of our great friendship. Ngina was a village girl at that time and I helped her to refine her looks".
She adds: "I taught Mama Ngina how to cook a meal for Mzee exactly how he liked it and how to serve it like one serves a king and with time she learnt those skills and we became good friends".
Mama Ngina went to be Kenya's First Lady and "We got a long with Ngina so well and up to date we are great friends. She normally sends greetings to me and asks why I don't visit her but you know I have aged I can't travel that often."
Wanjeri got married and so did Mzee Kenyatta who relocated to Gatundu and they lost contact.
"I remember one time Kenyatta was addressing a gathering at his home in Gatundu after he became president. I declined to attend that meeting but my kids went," says Wanjeri adding that she remained a great fried of Wambui Kenyatta and their friendship remains strong to date despite their old age.
What does Wanjeri think of Kikuyu women and their famed love for mbeca (money)? Esther urges women from Central Kenya not to be money oriented and be principled because "There's a time in life when wealth becomes meaningless and the only thing that can unite two people and bring happiness in their lives is love and not material things."
Related Topics