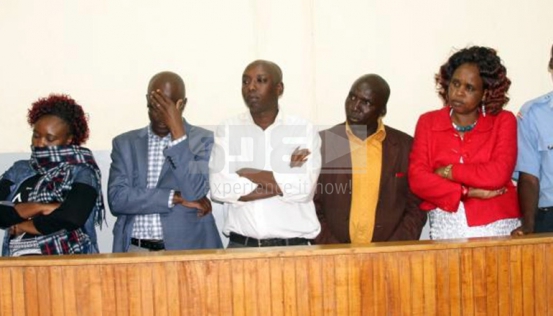 Peris Chepchumba Simam's rise from grass to grace and the free fall to the grass is considered stuff of folklore in her native Uasin Gishu County.
Just how wrong could things go for the one-term MP for Eldoret South was proven when she and her husband could not raise enough money to pay the Sh10 million fine after a court sentenced both of them to serve 18 years over misuse of CDF monies.
Eldoret Chief Magistrate Wanjiku Cherere found Simam, her husband Enock and four others guilty of 10 counts of corruption and abuse of office. Simam is charged with illegally awarding more than Sh4.5 million road contracts to her company, Kachur Holdings.
The former Eldoret South MP is said to have collapsed shortly after being detained at the Eldoret GK Prison.
But opinion is divided over Simam's fate. To some, she was a hard worker, a go-getter. To others, she was politically naïve and exhibited recklessness — some say she unwittingly squandered the opportunity to stay up the ladder. Hers was not the usual path followed by politicians, nay. Hers was a result of frustrated voters revolting against status quo. They were tired of male MPs giving them a raw deal.
After graduating from Kenyatta University with a Bachelor's degree in Education Sciences in 1991, her first posting was to Arnesens Boys' High School in Uasin Gishu County.
Her former students describe Simam as passionate, self-driven and dedicated.
"She rarely missed class and her lessons were some of the most interactive… we all looked forward to the lab lessons. Most of us, even the quiet ones, were engaged in the lessons," says Paul Kiprop, one of her former students who at one point served as Wareng County Council Chairperson.
Her unique leadership style endeared her to the students, and so it was when the ODM wave swept through the Rift Valley in the run up to the 2007 elections She coined and adopted the slogan 'Pepea na Mama' (soar with mother) in her campaign and the electorate flew with her in the contest for Eldoret South parliamentary seat, in which she floored four other contenders, including the incumbent, David Koros.
After 16 years of teaching, the calm but determined plunged into the murky waters of politics characterised by a lethal cocktail of influence, money, back-stabbing and broken promises.
Simam had everything going for her. She was among the only five women to become Members of Parliament in the expansive Rift Valley Province.
"How will she survive?" was everybody's fear.
Her entry into politics in 2008, according to close associates, was pegged on her family's popular lineage and boosted by the need for change of leadership with the gender factor playing in her favour.
Before the 2013 elections, Eldoret South Constituency was split into Kesses and Kapseret constituencies.
The 48-year-old was following in the footsteps of veteran politicians Wilson Korir and Jesse Maiz, who previously held the same post having opted for politics from the education career and who ironically, went out after only one term.
As a new broom, Simam, quickly learnt the ropes. She was elected the vice chairperson of Kenya Women Parliamentary Association and also doubled up as the vice chairperson of the African Parliamentary Network Against Corruption, Kenya Chapter, besides being a member of the agriculture committee.
She is lauded for establishing key projects in her constituency that have hugely improved the lives of the locals.
"One memorable project that people still remember her for is the construction of market stalls in various regions," said Kiprop.
Her woes began after she lost in her 2013 bid to recapture her seat when the Ethics and Anti-Corruption Commission (EACC) came calling.
The move was preceded by a warrant of arrest and a series of court hearings in Eldoret.
The MP was reported to have paid for road construction contracts that had not been completed and awarding some lucrative tenders to her cronies.
The case has clouded her political ambitions ahead of the 2017 General Election, for which she has been making strategies on how to capture the Woman Representative seat currently held by Eusilah Ngeny.
Related Topics