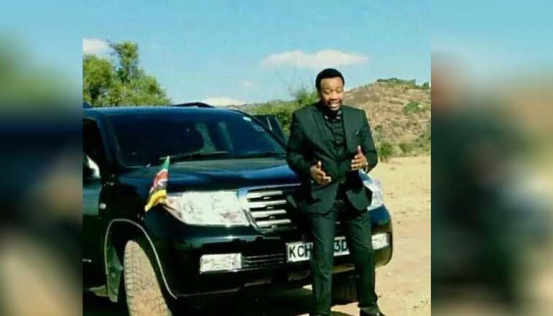 There is a preacher whom women are said to wet their panties over during church service. Others on the Facebook page of Kilimani Mums Uncensored have gone gaga over him for weeks on end.
Bishop Godfrey Migwi of House of Hope in Nairobi has denied he uses his looks to attract women to his church.
Bishop Migwi is not only said to have women drooling because he's easy on the eye, but also because of his alleged showmanship.
There are photos of Bishop Migwi, also a flashy gospel musician, in his tastefully furnished office, between huge flags of different countries and in front of his latest Toyota Land Cruiser V8.
The Nairobian sought him out and he had no qualms clearing the air on a number of issues. To start with is the matter of Betty Bayo. Are they dating, we asked? Then, how does he flourish in an area that is teeming with criminals and sex workers? We also sought to know if it is true that women wet their panties during church service?
Bishop Migwi responded that, "People took it too far, to the extent of saying that women wet their panties when they attend my services. Others say hundreds of women and other followers flock my church because of my looks."
Bishop Migwi knows he's a looker. "I can't say much about the handsomeness because it's up to people to judge. God made each one of us wonderfully and uses many ways to save people and that could be one of it. Further, I can easily tell women with malicious intentions when they approach me."
He doesn't shy away from revealing that he encounters truckloads of temptation and that he gets hit on even online by women whom he has "learnt to handle in biblical ways."
What most women don't know is that Bishop Migwi started preaching in the Kariobangi area of Nairobi when he was still a virgin, for more than 20 years before moving to Kayole three years ago.
"When women approach me because of my looks, they end up getting saved. I'm a family man and father of three children. I am married and love my wife. I have experience in dealing with those cases by changing the women instead of condemning them," he said.
The bishop who won the 2014 Mwafaka Award for best singer in Central Kenya turns his attention to what his relationship is with Betty Bayo.
He clarifies that theirs is purely gospel related and "she is my fellow gospel artiste. She was here to perform like any other gospel artiste thus it was more of hearsay to jump into conclusion." he explains
He adds that, "I was shocked by what I saw on Kilimani Mum's Facebook page because some women were drooling and trying to dig up my details. They ought to get saved instead."
Bishop Migwi is also in the final stages of completing what is billed to be the biggest church in Kayole, accommodating about 4,000 worshippers even though for now only 800 fit in the finished part of the sanctuary.
Bishop Migwi's office is also nearing completion. It has two flags, Kenyan and Israeli, a government logo and his own huge portrait.
"This is like the president's or government office because anytime, a leader can visit me here. Once in a while, thugs surrender their guns here that I surrender to the police because they (thugs) see it as a government office. The Israeli flag denotes land of blessings," explains Bishop Migwi, equating Kayole to the land of dry bones in the Bible.
His presence, claims, has had a positive impact, turning prostitutes into church ushers and ever-stoned matatu touts and drivers into regular 'sheep' of God.
Related Topics