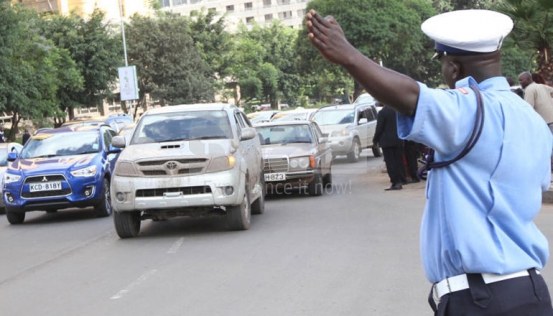 The team from the National Police Service Commission (NPSC) vetting traffic police officers shouldn't have taken offense when a corporal strolled into the room and casually said, "Habari zenu!" The good officer, after all, is worth a cool Sh59 million. With that kind of war chest, it doesn't make much sense salute and kowtow to people from Nairobi.
Yes, the Police Service is teeming with so many millionaire junior cops that it is even a miracle they still bother chasing smelly thieves and small time crooks for meager official pay. So adept are the boys in blue at business that one wise acre quipped that Kiganjo Police College must rank as the finest business school in the world.
In which other college can someone attend courses for a mere six months and mint millions in under a year? Yet, to earn a Bachelors, Masters and PhD degree in one stretch takes 10 years of slogging out in lecture halls, and even for a professor, taking home a million requires international contracts with the United Nations backed by 20 years' experience and publishing research in referred journals.
But for a police officer in Kenya, if the ongoing vetting is anything to go by, even proficiency in English is no requirement for an enterprising constable to mint millions selling 'mogoka' (khat leaves), maize, beans, chicken, eggs, milk, charcoal, sand, bed sheets, mabati, and mitumba besides residual income from rental houses.
Incredulous as it sounds, police officers also reap hundreds of thousands from merry-go-rounds (chamas), a feat that has eluded millions of women who perfected them for decades on end and t NPC commissioners including Murshid Mohammed, Ronald Musengi and Mary Awuor suspect the chamas are a cover-up for the millions sent by junior officers to their seniors.
A constable is the lowest rank within the National Police Service (NPS) where basic salary of a newly employed kurutu is around Sh17,190. A revised salary structure in which a constable was entitled to a starting monthly wage of Sh32,880 has never been implemented.
How such poorly paid and overworked constables surmount their financial challenges to 'prudently' manage a micro business that rakes in millions, yet MBA graduates can't run small 'wines and spirit' pubs or rudimentary 'telephone farming' is the question management gurus are scratching their greying heads over.
Retired police officer Fredrick Mulandi says it is possible for a karao to be worth millions through the easiest known route to wealth- inheritance. Others he says, make a lot of dough through sheer hard work. The former head of Logistics in the Administration Police (AP) said he started making a steady flows selling sand.
"I started with a single truck, collecting sand from Kajiado and supplying the same in Mlolongo and surrounding environs. There is money in business, I don't doubt what the officers are saying because I can speak from personal experience," said Mulandi.
The former senior deputy commandant was among seven senior officers who retired in 2013, electing not to be vetted. He says his sand transport business grew such that he now owns a fleet of 45 trucks.
"You can still work in Malaba and run your matatu business in Nairobi via mobile phone. You issue directions on phone and receive cash returns on the same phone," stated Mulandi.
But a constable stationed at Vigilance House, the police headquarters, disagrees insisting his colleagues in the traffic department are irredeemably corrupt.
"Even us we have farms and practice farming, but our accounts are almost zero. Is their farming different from what we are practicing? You can't convince us that an acre can produce millions within a short period," charged the officer.
For instance, Constable Agnes Chebii has accumulated Sh59 million after only six years in the traffic department. She claimed farming and mitumba were the paths she took enroute to being a bonafide millionaire.
Constable Joyce Owiti, for instance, was at pains to explain the source of Sh9 million she had transacted on M-Pesa. She has served in traffic for eight years. The officer told the panel she was involved in dairy, poultry and sugarcane farming.
"There is a colossal amount you transacted but you are unable to explain to this panel the source of this money," questioned Johnstone Kavuludi, the NPSC chair.
Independent Policing Oversight Authority (IPOA) chairman Macharia Njeru poked holes into the business claims, arguing that for them to do business, they must seek the permission of NPSC. He cited Section 10 (1) (c) of the NPSC Act which states that the commission shall "approve applications for engagement by police officers in trade and other businesses, in accordance with the law relating to matters of leadership and integrity under Article 80 of the Constitution".
Short of blaming the commission, Njeru envisaged the continuation of status quo if the officers are not tamed.
"These police officers have not been authorised as such, hence there is already a breach of the law. Secondly, if it's genuine businesses have they furnished tax returns as evidence of genuine businesses and payment of taxes on the businesses?" he posed.
More perplexing is why the officers continue enduring hardships at their work places yet they run successful businesses that would easily get them lecture slots at the University Of Nairobi School Of Business.
Related Topics