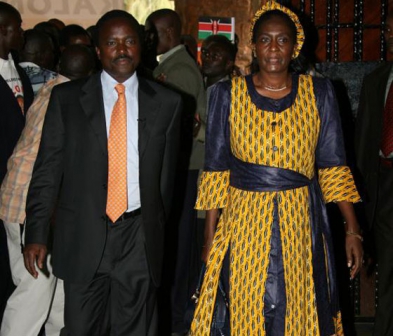 Not much has been heard of Wiper Party leader Kalonzo Musyoka's wife, Pauline Kalonzo, ever since she was admitted to Nairobi Hospital in 2015. Pauline has allegedly been suffering from an undisclosed ailment, prompting Kalonzo to miss some political engagements to accompany her for treatment abroad. Such times include the Cord demonstrations in Nairobi against the IEBC.
According to sources at Nairobi Hospital, Pauline was first admitted one Tuesday evening on December 29 after doctors advised her to spend more time for further checks. The former VP and a close family member were spotted at the hospital the following Wednesday morning.
Doctors then said Pauline, who is a senior employee at the Central Bank of Kenya, was in a stable condition and was to be discharged after the tests, before she began seeking medical treatment abroad.
"Lately, she has not been quite consistent," said a source at the Central Bank where she has been working for a very long time. "She comes to work occasionally and even so, she doesn't stick around for a very long time."
Kalonzo Musyoka married Pauline in 1985. The couple have four children. And despite her husband's high political profile, the shy woman often preferred driving herself in a Toyota Corolla.
Pauline is so laid back that even gospel musicians Size 8 and Willy Paul in their 2013 hit song, Tam Tam, claimed they didn't know the name of Kalonzo Musyoka's wife.
Even when her son, Klein Kalonzo, graduated from the University of Nairobi School of Journalism and Media Studies, she didn't accompany the hubby for the graduation ceremony.
Related Topics