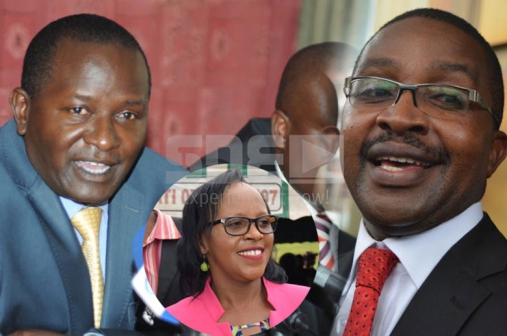 Kigumo MP Jamleck Kamau has told Murang'a Governor Mwangi wa Iria to keep off his family.
The MP accused the county boss of 'raiding' his events uninvited.
On August 12, Governor Iria gatecrashed a women's funds drive where the MP's wife, Agnes Irungu Kamau (pictured) was the chief guest. Iria allegedly stormed with groups of goons, among them boda boda operators.
The forced entry caused commotion during the event, with some women fleeing for safety fearing attacks by the gang, but police intervened and maintained calm.
Irungu was forced to leave the event early.
"My wife was not happy at all. She is not a politician who is used to these altercations. I am even told that some of the goons attempted to reach for a cash box where the contributions were kept with intentions of grabbing the money, but luckily the OCS did a good job to maintain peace and ensure safety of the money.".
Kamau who spoke to The Nairobian on telephone said the governor was attempting to intimidate him in his campaigns, and advised him to concentrate on his county business, instead of following him to public events.
But Iria maintained that he will continue attending his rivals' public events, saying he does not need invitation to attend them. The governor gave an open invite to Kamau and his other rivals to also attend his events uninvited.
Related Topics