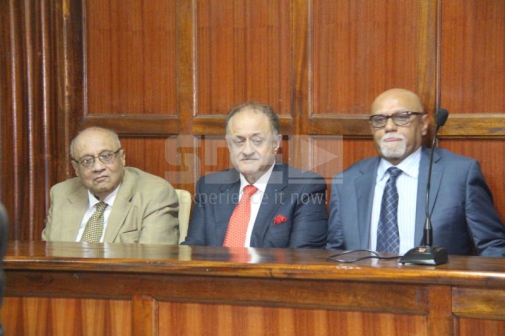 Were it not for the Sh56 billion Anglo-Leasing scandal that rocked the Kibaki administration in 2003, few Kenyans would have had a glimpse of the Kamanis, the billionaire Indian family that ran Kamsons (short for Kamani and Sons) Group.
The more famous in this brood is Deepak Kamani, who was charged in court alongside his brother Rashmi Kamani and their father, Chamanlal Kamani, with five counts of conspiracy to acquire over Sh10 billion of public funds for "services not provided."
Kamsons Group introduced the Mahindra car in Kenya as a police patrol vehicle, with its fair share of controversy, besides Anglo-Leasing that was associated with providing modernised security surveillance system for the police. But the story of the Kamanis started way earlier.
Chamanlal Kamani: Arrived from Goa, India in 1950 following an invitation by a cousin who was working as an accountant for the colonial police. He arrived with only Sh16 on him and had to marry a local to live in Kenya. He found a wife in Mombasa and a job as a mechanic, before opening Africa Motor Spares along Tom Mboya Street in pre-independent Kenya, which his son, Deepak, joined when he turned 17. So good was the son at selling spares that he opened an outlet in Mombasa for him in 1969. The family diversified into posho mills under Kamsons Ltd - the vehicle they used in securing multi-million shilling government tenders.
Deepak Kamani: Born at Ngara Maternity Hospital in 1953, Kamani dropped out of school in Form Two (he usually came last in most school activities, including swimming!), but still managed a diploma in mechanical works from Kenya Polytechnic, now Technical University of Kenya.
Kamani, whose office sports a 30-year-old carpet, has built the Zuri Group Global into a multi-billion shilling behemoth with interests in hospitality, real estate, project financing, floriculture (they export 90 million roses a year), infrastructure, energy and defence. So, snapping the Diani Reef Beach Resort for Sh120 million was no big deal for the man who loves watching House of Cards, Suits and The Good Wife.
Rashmi Kamani: He is brother to Deepak and runs the family's Zuri Hotels in Dubai.
Daisy Kamani: Deepak's daughter who is married to Sameer Group chairman Naushad Merali's son, Sameer Merali.
Bobby Kamani: He is Deepak's son who runs The Zuri Hotels in Goa, Kumarakom, Bangalore and Sikim in India, where they are ranked among the most luxurious - what with houseboat cruises, sailing, yachting and an international therapy centre.
Related Topics