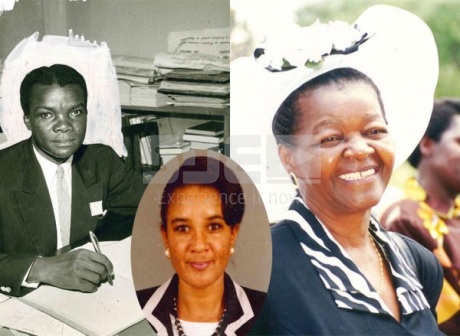 The learned, intelligent, witty and confrontational CMG Argwings-Kodhek was Kenya's first to open a law practice. His famous initials, CMG, stood for Clement Michael George Argwings-Kodhek or 'Chiedo Mor Gem' Luo for 'The Frying Oil of Gem.' The MP for Gem and Assistant Minister for Internal Security and Defense died in a suspicious accident along the road named after him in Hurligham, Nairobi on January 29, 1969. He was 46.
CMG Argwings-Kodhek: The first man to form a political party in Nairobi is an alumnus of Makerere College (diploma in education, Class of 1940), Lincoln's Inn (Barrister-at-Law, 1951). The "Mau Mau Lawyer" made his name defending freedom fighters toughing it out in court room chock-full of odiero judges and jurors. One Waruru Kanja, the late Nyeri MP, was to be hanged for smuggling arms to the Mau Mau before Argwings-Kodhek's stiff defense saved him. Kodhek was later debarred in 1957 and closed his offices at Church House, Nairobi.
Mavis Tate: This nurse and daughter of an Irish engineer met the dashing future lawyer in Britain. They married and came to Kenya in 1952 when it was illegal for blacks to kiss or hold white women's hands in public. Something else: Kodhek could not live West of Uhuru Highway-which was for whites only-while Mavis could not live in Eastlands- which was for nyeuthis! They had two daughters, Carole and Shirley before they divorced in 1963. Joan Omondo was the replacement.
Carole Argwings-Kodhek: is a writer and consulting editor, one-time columnist with the Standard.
Shirley Argwings-Kodhek: Was married to the late guitarist Michael Karoli of the German avant-garde electronic group Can. They had two daughters.
Joan Argwings-Kodhek: Kodhek proposed to her while attending the Lancaster House Conference in London in 1961. Joan was bowled over by his Christian values, civility and love for education. Retired President Mwai Kibaki was Best Man and Claire Omanga, wife of Andrew Omanga then the Home Affairs Permanent Secretary, the Best Maid during their wedding at the Holy Family Cathedral, Nairobi.
The daughter of a pioneer African teacher was an administrative secretary with East African Railways, British Council and the Magadi Soda company while living in Baba Dogo, Ruaraka before moving to Lavington. But when her hubby died, the Jomo Kenyatta government gave her a three-bedroomed bungalow in Woodley. They used the rent on the Lavington home to cover the mortgage! The mother of Gem, Caesar, Sharon and Eugene, succumbed to cancer in 2013.
Gem Argwings-Kodhek: The alumnus of The University of Arizona, Stanford University and Michigan State is an Agricultural Economist.
Caesar Argwings-Kodhek: Attended Rice and Georgetown University, USA,
Sharon Argwings-Kodhek: The trustee at AVIF, an online charity in sustainable development in rural Kenya, succumbed to lupus in 2013.
Related Topics