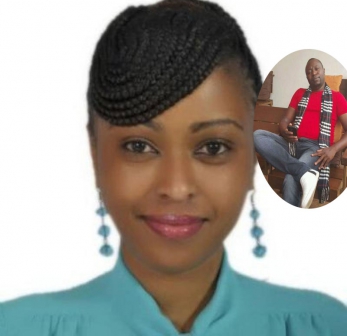 When The Nairobian visited Icon Place where Christopher Muganda lost his life, it was business as usual. Eddah Kamau's two-bedroomed corner house situated on the second floor remained locked.
On the night of the incident, it is reported that when Chris drove in, he did not see a Prado parked outside the gate.
Our sources revealed that Muganda went upstairs to Eddah's house and a few minutes later, Kanari followed him and started banging the door. Our sources revealed that the door was flung open and a confrontation ensued.
It is alleged that Muganda left the house with Eddah in tow before Kanari pulled out his gun and shot him in the stomach at close range.
A distraught Eddah panicked. The single mother tried calling Muganda's friends for help as Kanari jumped into his car and sped off.
Incidentally, it is said that the Prado had other occupants. Eyewitnesses told The Nairobian that Eddah reported the matter to police.
"Chris (Muganda) was a generous man and even tipped us when he was around. I knew him because he visited here in his Mercedes Benz, mostly during weekends," said Michael Muthui, a boda boda operator. "I know Eddah too. I always pick her in the morning but she is usually dropped in the evening by different vehicles. Not so long ago, I saw Kanari leaving the building, but I was not sure he was also seeing her (Eddah)," he added.
Agnes Kariuki, a neighbour, said Eddah has lived in the apartment for three years, though she never mingled with her neighbours.
"I heard a loud bang around 2am and went back to sleep, assuming that it was nothing serious, only to wake up and find police officers in the building," she said.
The plot's caretaker told The Nairobian that Kanari's Toyota Prado was parked outside, that's why he managed to leave immediately after the incident
Related Topics