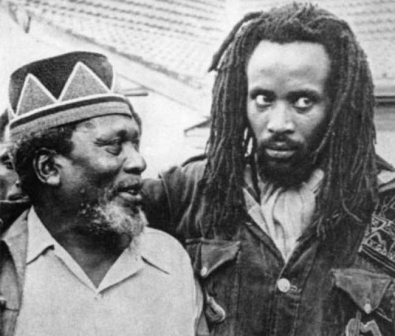 Kenya celebrates the 52nd Madaraka Day since the first was marked in 1964, a year after Kenya's independence, which was attained after shedding 'blood, sweat and tears.
Here are some of the Mau Mau high command who led freedom fighters armed with homemade guns and bore homespun nicknames:
Field Marshall Musa Mwariama: His real name was M'Kiribua M'Muchir. He was the only Mau Mau top brass who was never captured, surrendered or killed and survived unscathed with his 2,000 strong fighters. He was bestowed with the order of the Elder of Burning Spear after independence and is most remembered for that famous photo with Jomo Kenyatta (see below). The 61-year-old Murume died after sucking poison from the leg of a friend who had been bitten by a snake in Ukambani in 1989.
General Kahiu Itina: His name translates to General 'Knife in the Butt.' He was born Theuri Mathe and feared as a strict disciplinarian who took Dedan Kimathi to task over indulgence in sexual pleasures at the height of the rebellion, as John Lonsdale notes in his 2003 effort, Mau Mau & Nationhood: Arms, Authority and Narration. General 'Knife in the Butt' was killed in the war.
General China: Waruhiu Itote took the General China title in the forest. He surrendered after being cornered by vicious colonial cop, Ian Henderson, on January 15, 1954. He was to be hanged, but struck a deal with Henderson to have fellow Mau Mau surrender.
But the mission failed and he was jailed with Mzee Jomo Kenyatta and the Kapenguria Six at Lokitaung Prison, where Jomo taught him English. China saved the future president's life after fellow inmate, Kariuki Chotara, then a minor on murder charges, attempted to knife Jomo, as Elizabeth Watkin's informs us in her 1996 book, Jomo's Jailor.
General China headed the National Youth Service after independence. He died of stroke in 1993. General Baimungi Marete: He led the Mau Mau after Field Marshall Dedan Kimathi was hanged in 1957. The Jomo Kenyatta government awarded him 10,000 acres in Timau and a Land Rover after surrendering in 1963. He was permitted to fly the national flag on his car and homestead.
The government failed to honour its promises and General Baimungi - who demanded to be made General in the Kenya Army - returned to the bush. He was killed by government agents at Nkando ya Nkoma Forest on January 26, 1965. His body disappeared!
General Stanley Mathenge: He headed a faction of the Mau Mau and left for Ethiopia in search of arms in 1955, but never returned. The Kibaki administration mistook him for Ethiopian farmer, Ato Lemma Ayanu in 2003!
Related Topics