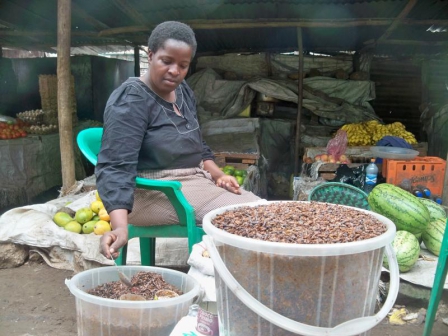 Do you sometimes wonder why sleek vehicles are often parked around Maziwa Market. The market along Jogoo Road famed for indigenous chicken and eggs has over the years gained a new lucrative identity. Besides the chicken, it's now home of delicious kumbi kumbi or termites.
High-profile Nairobians reportedly sneak into the market for the rare delicacy. The insects which are extremely popular in Busia and surrounding towns has now woken up the rather sleepy market, The Nairobain has learned.
Lilian Atieno who is currently the only businesswoman in the market appears to be making fortunes from the insects.
"The insects are rich in protein and calcium. That's why most of my clients report a boost in their sex drive within days after eating the insects," Lilian says, adding that, "Both men and women experience the increased sexual energy."
Martin Amara, an elderly man whom we found purchasing the insects said, "I eat them twice a week and the results are amazing. They give me energy in all parts of my body despite my age."
Lilian claims that some of her regular customers for more than two years now include former Education assistant minister and a top city lawyer.
"A 250-gramme tin of the insects go for Sh50; a bigger tin costs Sh150.
"Kumbi kumbi weighing 17 kilogrammes costs more than Sh10,000 and I clear that in two days or less," she reveals.
Lilain adds, "I get the insects from Busia, already dried and salted, but I preserve them further to give them a longer life. They are more effective and nutritious when mixed with mushrooms."
She says the insects are trapped in April, May and August.
Nutritionist Liz Maina explained that, "The insects have other medicinal values and people who eat them rarely complain of flu or cold."
Related Topics