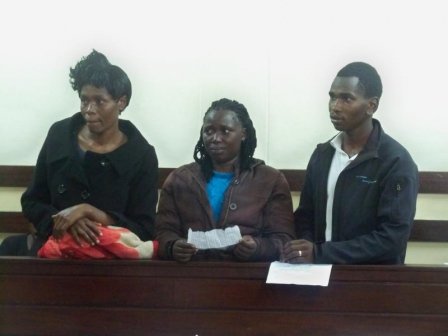 A love letter written by a 17-year-old boy is the reason a 39-year-old woman has landed in court for alleged assault.
Gladys Kwamboka was accused of attacking and injuring the boy after reportedly finding a love letter he wrote to her daughter purportedly soliciting for sex on April 26.
The accused was charged alongside neighbours Patrick Mokaya and Veny Kerubo who allegedly helped her beat up the boy, claiming they were teaching him good morals.
The Form Three boy told police that he was in the city to visit his sister during the April holidays when the ordeal befell him.
The boy told the court that he was in the house around midday when Kwamboka knocked on the door and then stormed into the house.
Kwamboka reportedly switched off the television which the boy was watching, before assaulting him with slaps. The boy said that as he was being slapped, Kwamboka accused him of making advances on her under age daughter.
Kwamboka's co-accused, who were outside and allegedly armed with crude weapons, are said to have joined in the attack that left the teenager with serious injuries.
In her defence, Kwamboka told the court that, "I just disciplined him for writing a love letter to my daughter."
The three were set free on Sh20,000 bond each. The matter will be mentioned on May 19.
Related Topics