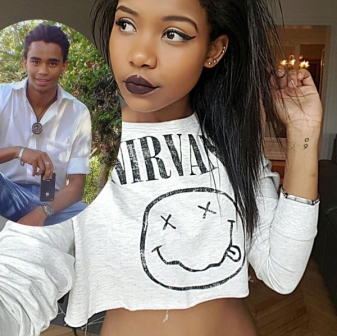 Retired president Mwai Kibaki's wife's death has unearthed a few things that we did not know about the former first family.
If it wasn't for Mama Lucy Kibaki's requiem mass at Consolata Shrine, Westlands we probably would never have discovered Jimmy Kibaki's sense of humour. We probably would not have discovered his deadlocked grandson who is dating a youtube star.
The young man who Heads Up has identified is called Sean Andrew and is dating a YouTuber Elodie Zone. He is an International Relations and Psychology student at USIU. He is also a part time photographer.
Elodie, a Braeburn Garden City alumni is the biggest and probably only Kenyan YouTube star. She is currently a student in France. Sean, who is now a teenage sensation ever since he was seen on TV reading his grandma Lucy's tribute, has been an occasional guest at Elodie's vlogs either just goofing or being featured by default while he drives her either to Thika Road Mall or a house party.
Sean and Elochie now join Heads Up's love hearts watchlist.
That's having unearthed other politicians' offspring's love life's Kiambu Governors sons Alvin and Andrew and Uhuru Kenyatta's son Muhoho Kenyatta.
Related Topics