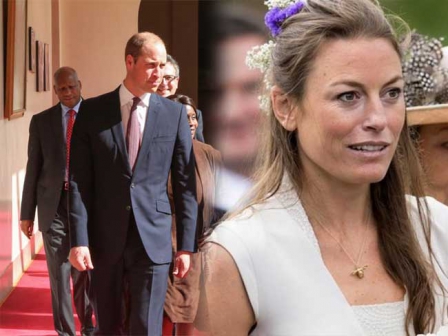 Prince William of Britain missed spending Easter with his family to attend the invite-only wedding of his ex flame in Kenya.
Left at home in Norfolk was his wife Kate Middleton, the Duchess of Cambridge, with their two children; Prince George and Princess Charlotte, his 10-month-old daughter.
Prince William was in Kenya for the wedding of Jessica Craig, daughter to Ian Craig, the owner of the Lewa Wildlife Conservancy, who gave away his daughter to conservationist Professor Jonathan Baillie.
"The wedding was held at Milima Nugu (Monkey Hills) area, and was an exclusive ceremony for invited guests only," a source told The Nairobian.
Milima Nugu is a hilly area dotted with acacia in the Lewa Conservancy, the venue of the annual Safaricom Lewa Marathon.
The source indicated that about 300 guests, including the Duke of Edinburg and other foreign guests, mostly from the United Kingdom, attended.
So exclusive was the wedding that only workers at Lewa with specially assigned roles were allowed.
"We were treated on Friday night to a wedding eve ceremony and then instructed to keep ourselves busy elsewhere on the day of the wedding," said a source at Lewa.
Prince William and Jessica were first linked together as teens during William's gap year after graduating from Eton. They remained good friends and William even attended Craig's brother's wedding in 2008 and the same compliment was repaid when the Craigs attended William and Kate Middleton's royal wedding in 2011. Jessica was with her then boyfriend, Captain Philip Kaye.
Prince William jetted to Kenya for a four-day official tour of Kenya which started with a meeting with President Uhuru Kenyatta with whom he reportedly discussed wildlife conservation and diplomatic ties between Kenya and the UK "to deepen relations between the two countries on a broad range of topics including defence, security and conservation."
William also met a team of rangers at Lewa Conservancy, reportedly, to learn about their work of protecting rhinos from poachers.
Stephen Burns, the head of communications at the British High Commission told The Nairobian that the Embassy's role in handling the Duke's itinerary ended with the meeting with President Uhuru.
"The rest, which includes attending the wedding is private and we are not involved at all," said Burns in a telephone interview.
Related Topics