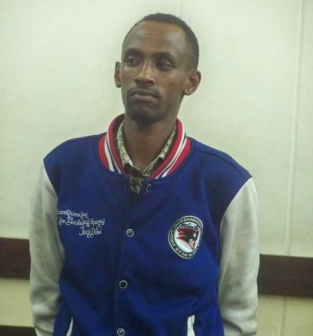 A police officer attached to Kasarani Police Station may be sentenced to death if found guilty of robbery charges he is currently facing at a city court.
Kubi Abdi Huka, 26, allegedly committed the offence on March 21 in Roysambu, Nairobi.
It is alleged that the accused, while armed with a pistol, threatened Alexander Kyalo Kithinzi, before robbing him of Sh40,000.
Kithinzi who runs a pharmacy an M-Pesa shop, was still operating around 9.40pm when Huka arrived reportedly visited his premises and requested to withdraw Sh50,000.
Police say the complainant told Huka he only had Sh40,000. Allegedly, as Kithinzi reached for the money, Huka pretended to be searching for his identification card.
The court heard that the accused removed his revolver on seeing the cash and ordered Kithinzi to surrender it all. The court also heard that the officer threatened to shoot Kithinzi in the head if he defied his orders.
Huka is said to have left immediately after taking the money.
Kithinzi reportedly informed a neighbour who alerted members of the public and pursued Huka as he ran towards Kasarani Police Station.
At some point, Huka is said to have whipped out his pistol and threatened to shoot his pursuers. It is said that his colleagues at the station came to his rescue, with the public baying for his blood.
Huka was arrested on March 24 after being identified by the complainant.
He however denied the charges in court and asked he be set free on lenient bond terms claiming he was a part-time student.
He was however released on a Sh1 million bond and two sureties of a similar amount.
The case will be heard on September 2, 2016.
Related Topics