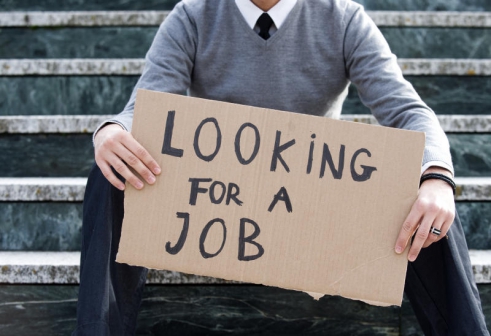 Job hunting in Kenya is a lot of work. Sending applications and waiting for responses while surfing the internet is more or less a dead end way of searching for 'works' as the 'G-mail generation' puts it. So what to do?
Here are the crazy ways of tarmacking in 21st century Kenya:
1. Scavenging obituaries Vultures will buy newspapers religiously, not to read the politics of 'hairdressers,' but with a greater purpose - going through the obituaries to find out which employee from which company has 'bitten cotton.' A dead employee means a job opening after all, hopefully the management wouldn't consider filling the vacancy from 'within'. It's just a way of life.
2. Damn, date the boss
Your boss has a wife. So, when you see him with a 'yellow-yellow' gacungwa the age of his daughter, worry not. She is not a gold-digger. 'Yellow-yellow' might just be going through a job interview to replace you. The adage goes: date the boss, get the job!
3. CV on OLX Who bothers with unsolicited job applications nowadays? You know very well that some application you left at the gate in a brown envelope could be lighting the watchie's jiko at home in Buruburu Phase Zero. But what to do? Just know that everyone is on OLX looking for phones, pants and dogs... Put your picture there and some honcho looking for a 'fence trimmer' may click and stumble on your CV!
4. Blackmail the 'sponsor' Your cute female friend has an old geezer, her sponsor, whose kali wife and well-mannered kids you know. Just get their photos and walk into his office with threats of, "Nataka kazi ama nitoboe!'
5. Become an online guru Create your own unheard of titles fit for companies that want to shift from analogue mode: Like 'Online Business Intelligence Architect,' 'Social Content Landscaper,' and 'Web Experience Optimisation Manager.' Shortly, you will get promoted to 'Internet Strategy Adviser,' 'Web Communications Analyst,' or 'Interactive Marketing Specialist' in the Digital Division.
6. Became a fake cleaner The problem with offices is getting your foot in. So, get into a cleaning company and after doing rounds for two months just drop your 'papers' with HR who will be flattered that such a learned 'cleaner' works there. If a cleaner's job fails, just hire bodyguards (read friends) and show up in an Uber taxi (it costs just Sh300) and tell the stone-faced guard you have an appointment with the boss. He will give you a glass of water first!
7. Buy ad space Newspaper adverts work like magic for products and services. Well, try them for jobs. Last year, someone advertised his daughter for marriage. So you need a job? The desperate ones know that every office has gazeti za mdosi. In fact, buy billboard space!
8. Hack into the job A local private university had a student who hacked and changed the marks of colleagues who had scored Ds. For Sh20k you get an A! He was hired to prevent other hackers from doing the same. Remember the case of Dennis Itumbi? He's Uhuru Kenyatta's Director of Digital Communication using route number 8!
9. Become a rubble rouser This has worked with politicians. They cause so much trouble in civil society and opposition parties until the president is left with no option but to hire them. Do the same with a company.
10. Have gnarled, but hot balls Walk in, tell them who you are and dare them to employ you. Caroline Mutoko asked Radio Africa (on air) to poach her from Capital FM if they had balls. And balls they had.
Related Topics