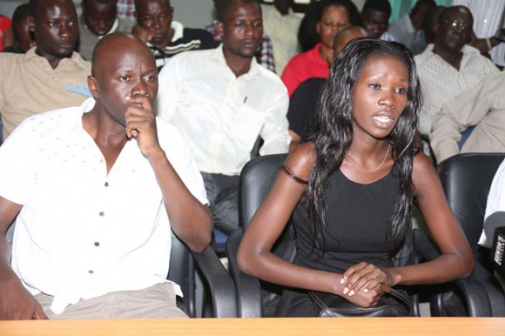 A firebrand Mombasa MCA is caught in a forgery scandal involving two luxurious cars worth Sh8 million, which allegedly belong to a Briton.
Jabess Mdhai Oduor, the battle-hardened Kongowea MCA, is also allegedly involved in extortion claims and girlfriend-snatching. The Briton, Joachim Steuerwald, claims the MCA was having an affair with his estranged girlfriend, Lilian Achieng Odhiambo.
Jabess however denied having any affair with Lilian and explains that he only wanted Joachim to pay him the Sh1.8 million he lent Lilian who allegedly used Joachim's names and the vehicles he has 'attached' as guarantee of payment.
But Joachim says he never signed any documents to guarantee Lilian the loan. "Lilian cohabited with me for a short while in my residence in Shanzu. After our breakup, I made her aware that I would come to collect my car, a Toyota Harrier (KCB 071E) which was parked at our compound.
Before I reached Mombasa in early November, Achieng disappeared with the vehicle without my permission and went into hiding," claims Joachim, adding that Lilian also made away with household items including a Panasonic fridge valued at Sh250,000, a dining table with six leather chairs valued at Sh120,000, Samsung LED TV 40" valued at Sh80,000 and various items and expensive crockery and cutlery valued at Sh130,000, and which she reportedly pawned.
Jabess on his part told The Nairobian that Lilian was introduced to him by a friend after which he lent her Sh.1.8 million. "The lady came with a baby who was almost half-dead and I gave her Sh1.8 million. I took a BMW which had an accident after they failed to pay," said Jabess, adding that he was just "a Good Samaritan". Jabess however, failed to state whether Joachim was present or whether he signed any document as a guarantor.
Lilian says she was forced to borrow the money after Joachim stopped paying for the child's upkeep. Joachim reported the matter at Bamburi Police Station, which was recorded with OB 2/5/11/2015 as the reference number. Jabess was later arrested at his Kongowea home and ordered to record a statement at Dock Section Police Station after he was found driving the Harrier.
Joachim said that on October 28, 2015, he was shocked when Jabess informed him - through a text message - that he had lent Lilian Sh1.8 million which he should pay. It was then that Jabess took a BMW X6 KBX 626W worth Sh5 million together with the Harrier. The BMW reportedly belonged to his current spouse, Hellen Oduor.
Documents seen by The Nairobian, which include sale agreements and logbook, reveal that the BMW belongs to Hellen Oduor who has also reported the theft of her car at Bamburi Police Station. Jabess did not get a court order or use a registered auctioneer to repossess the cars. Kisauni Deputy OCPD Walter Abondo said that the police were investigating the matter.
"I don't know why the police are reluctant about taking action," said Julius Ogogoh, the Executive Director of Commission for Human Rights and Justice. "We can't apply the law selectively because the person robbed is a white man. It is unacceptable and I think top police officers in Kisauni should be transferred."
Here are some of the text messages between Jabess and Joachim as presented to Dock Section Police station:
Jabess: Your wife took money from us and none of you is picking your fones. We will be forced to auction your stuff to recover our money. Hon Jabez.
Joachim: I have no idea who you are, and I don't pick random numbers. The last time I checked I don't have a wife. So I have no idea who borrowed money from you and why the hell would you lend someone money in the first place. I really don't see what this has to do with me
Jabess: Do you know Lilian Ochieng Adhiambo?
Joachim: She is an acquaintance but not my wife. She must have lied to you. Still don't see what this has to do with me.
Jabess: She f*ck*ng came with a child almost half dead to us to help her with cash, were informed the supposed dad who had traveled was aware!! Now new twist.
Joachim: Sounds like you are operating a loan bureau....why didn't you call me in the first place when she asked you for the money? I would have told you not to give her as I won't be coughing up her liabilities. it is simply wrong to loan Sh1.8m to an unemployed individual on the premise that a mzungu will bail her out. Common sense.
Related Topics