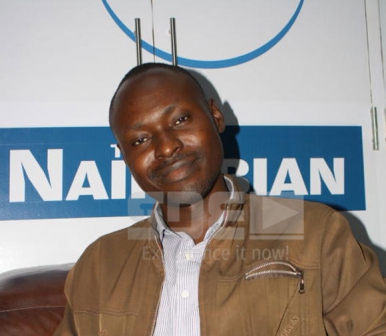 How did you end up as a grave digger at such a young age?
As a school boy, I was condemned to poverty. I did not even have enough money for uniform. I was desperate. I tried any job as long as I made money. I needed to pay my school fee. One day in 1998, a neighbour died and they needed people to dig the grave and I volunteered. I recruited a team and we dug the grave. After digging the grave, I remember they gave us a hen to slaughter. I was so excited since I had not tasted chicken for years. We were also paid Sh1,600. I pocketed the Sh600 and gave them the Sh1,000 to share. I decided to venture into that business.
What do you mean 'venture into that business?'
I used to be on the lookout to find out who has died. I would then create a rapport with the family and offer my services. It became my job, though it was really hard. From the money I made, I paid for my secondary school education.
Was the money enough?
Not really. I couldn't afford very many things. In fact, while in Form Four, I received a set of new school uniforms. I was to represent Nabunga SA Secondary School in the national public speaking competition at Kenyatta International Convention Centre in Nairobi. I felt very awkward wearing new, clean clothes since I was used to wearing worn out clothes.
Did you clear school eventually?
I did my Kenya Certificate of Secondary Education and performed well. I joined Egerton University for a government-sponsored programme. But after one semester, I quit because my siblings were suffering. I was out of campus for four years was therefore discontinued.
What did you do all this time?
I was loading lorries. Believe you me, I could load a 65-bag canter on my own. That is when I got into Church ministry, leading praise and worship. One day, the pastor said they wanted to bless me. He asked me to find a nice girl and promised to finance my wedding. However, after the service, I told him I wanted to go back to school instead.
They held a fundraiser in church and raised Sh63,000 and I joined Masinde Muliro University of Science and Technology (MMUST) in 2005 to pursue a degree in Disaster Management and International Diplomacy. Unfortunately, the money couldn't cater for all my college needs. I regretted joining the university, because life was really hard. I was comfortable for about a week. Out of the Sh63,000, only Sh1,000 was my pocket money which lasted for about a week. I was broke and depended on my friends for basic needs like toothpaste.
Without money, how did you survive, how did you even pay fees?
After a month or two, I approached the dean and asked if I could do anything for the university and earn some money. She gave me a work study job, which involved cleaning the library. I woke up at 4am to clean and arrange books. In second year, I got a promotion to the kitchen. I used to work and eat from there. I had to clean sufurias, slice meat and even cook. My life changed. I never lacked food. I had it all. I had my first girlfriend whom I married in 2005 and graduated in 2009.
So did you get a job after Campus?
No. I did not. I was still supporting my siblings. I came to Nairobi to look for a job, and ended up in Industrial Area in a printing company. Despite having a degree, I was loading boxes and sleeping outside Ambassadeur (Hotel). The street kids know me. I couldn't even afford Sh70 fare to visit my friend at Baba Dogo. I managed to raise the fare after three weeks.
A few months later in 2009, I got a full scholarship at MMUST due to my exemplary performance at undergraduate level. I was called for Msc. in Diplomacy and International Relations. But I was still working as an examinations clerk for the Kenya Institute of Management. I have lived through the pain of poverty, and throughout my suffering, I felt like the world was against me. After my master's degree I wrote Ndakhuyanza Omwami, a song that highlighted my status as a graduate street child who was thankful to the Lord.
What do you do presently?
I teach at universities in town and manage a school for Catholic sisters. I am the Managing Director and Principal Consultant for Trinity Management, as well as a gospel musician. Last year, I won a Groove Award for Western Region Song of the Year and also won a Mwafaka Award for the Most Promising Western Region artiste. God has changed my story.
- Transcribed by Irvin Jalang'o
Related Topics