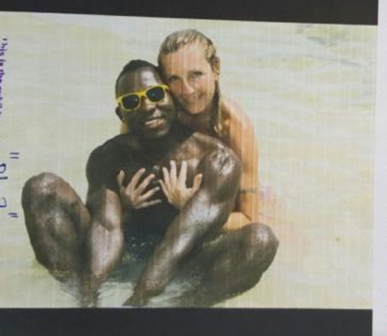 A love affair between a local beach boy and an Italian woman at the Kenyan coast has hit the rocks.
This came after a Mombasa court honoured a request by the Italian woman, identified as Loredana Piarulli, to have her marriage to Ebo Mahs Kabao annulled.
The court also heard that the two tied the knot under Kenyan laws in Watamu in March 2011.
Piarulli, a doctor based in Rome, sought to dissolve the marriage between her and the beach boy after reportedly seeing different Facebook photographs of his lover taken in a suggestive manner with other women. Justice Said Chitembwe, who presided over the case in which Piarulli is referred to as PK, ruled that: "It is clear to me that the marriage between the two has worn out. There are no feelings between the two," the judge noted.
The doctor, according to court testimonies, had promised to pay Kabao Sh1,000 daily to have him leave his work at the beach.
It is reported that Piarulli moved to court in March seeking the dissolution of the marriage over adultery. She testified that the marriage between her and Kabao is not working.
Piarulli told the court that one of the ladies in a photograph with Kabao called to enquire whether she is married to him. Kabao is referred in the court documents as EMK.
"He had told the lady that he is not married and had no family. He has been telling all the women he meets that he is not married. Some of the ladies are from Italy and are known to him," Piarulli testified.
The court heard that Kabao only wanted economic gain from her and that he is not serious about the relationship. The doctor suspected that Kabao has another family, claiming that on the day they got married, the beach boy disappeared in the evening.
On his part, Kabao accused Piarulli of hurriedly organising the wedding as she was about to leave for Italy.
Kabao, who at one time travelled to Italy with the doctor, told the court that: "One day, we went to visit her mother in Italy. Surprisingly, she asked me to remove the wedding ring so that her mother would not know we were married."
Kabao told Justice Chitembe that as a beach operator, he normally takes photographs with several women. He claimed that one of the women in the photo produced by his ex-lover was known to him even before the two got married. He stunned the court further when he claimed that the he too had had enough of the marriage and wanted it dissolved, complaining that his conjugal rights were limited.
He however acknowledged that her ex-lover assisted him financially and that he loved her.
The judge, in his ruling, said that the court cannot compel the two to live together against their will.
Related Topics