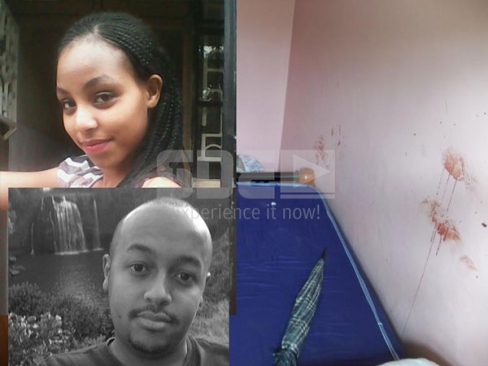 Something is amiss in Buruburu estate. Once the middle-class pearl of Nairobi, it's social fabric is in tatters. In less than a year, at least four people have been killed in crimes of passion and this, residents say, is merely the tip of the iceberg.
The latest incident involves beautiful 21-year-old Ruth Wanjiru Kamande, who stabbed her boyfriend, Farid Mohammed, to death reportedly over a love text message sent by another woman.
Wanjiru was arraigned in court on September 24 and police asked for 10 days to complete their investigation. When she arrived in court around 10am, she collapsed due to the stomach wound,which is yet to heal. Her attempt to explain what happened on the material day was stopped until hearing date. The matter will be mentioned on October 5.
Witnesses and police claim the 24-year-old succumbed to 22 stab wounds, before Ruth turned the knife on herself. She is now fighting for her life.
The two had been in a relationship for more than a year. Witnesses claim Farid visited Ruth in Buru Phase 3, Ngarania Court, house number 539, where they reportedly argued before she stabbed him in the abdomen.
Joshua Kimiti, a witness, told The Nairobian that, "I heard cries from Farid asking her not to kill him. When I arrived with others to see what was happening, the noises had ceased. Wanjiru threw the keys at us from the kitchen window. When we opened the door, the man in the bedroom was dead."
Wanjiru who reportedly tried to kill herself with a knife was rushed to the nearby Metropolitan Hospital with stab wounds in the stomach and both hands.
She has since been transferred to Kenyatta National Hospital where she's handcuffed on her hospital bed under police guard.
When The Nairobian visited the court where the crime took place, we were met by an eerie silence. The residents are away, the compound well kept. Besides the broken ladder and stones used by witnesses to peek into the bedroom where Farid was murdered, it is like nothing happened here.
The bed remains unkempt, with a white pillow on the edge, bloodstains still fresh on the navy-blue mattress and cream coloured wall. The bed is small, telling the story of a tenant who had probably just started life in the small 'extension' of the main house. The tiny kitchen with a few items directly opposite the small bedroom indicate as much.
This death behind the private walls of this residential area is not the first of its kind. Buruburu estate seems to be bleeding and buckling under the weight of strained relationships, some of which have led to murder.
The young and the old admit that the estate is facing the worst phase of its cycle with cases of domestic violence on the upswing , even though most go unreported, unless they become fatal.
"We live as a community here. We date and marry among ourselves. I can date my former schoolmate, dump her then take her friend and do the same but end up marrying a different woman from this estate. All this time, my exes might be plotting to revenge. It is not unusual to hear a resident stabbed or severely beaten at the behest of a lover or an ex," a resident who identified himself only as Kipkoech said.
Kipkoech says he was stabbed by a gang hired by his ex-girlfriend when they separated. But he says what befell his childhood friend two years ago was worse. He is now in a wheelchair.
"His former girlfriend hired a gang of six that beat him and left him paralysed. They beat him up and stabbed him several times. They thought he was dead but he survived. The thugs also beat his wife. She miscarried. He knew his former girlfriend planned it, but they decided not to pursue the matter and moved on," says Kipkoech.
Buruburu is a middle-class estate housing young adults who were born and raised there. It is also home to tenants who pay between Sh30,000 and Sh40,000 for two, three and four-bedroom houses. Homeowners have also constructed 'extensions' which they rent out for between Sh15,000 and Sh20,000.
According to George Otieno who lives in Phase One, for a stranger, the estate looks tranquil. But its is a different story when residents share their tribulations at the hands of lovers, exes or their lovers' exes.
"There are lots of problems and secrets behind these gated neighbourhoods. You just need to visit bars around and listen or witness some of these things. Men beat up their lovers on the roads, in bars or houses and nothing is done about it because they are childhood friends and their parents are friends as well. So, we handle it the 'African way' without involving the authorities," says Otieno.
Kipkoech adds that the estate is a 'sin city' and that it is not a big deal for friends to share sex partners: "I can bed a girl and when I am done with her, my friend takes over and the chain goes on. Meanwhile, I will be dating another woman, whom I will dump because of a 'beef.' Many girls here have kids whom they leave in the care of their parents as they enjoy life. They live a very carefree life." And when young newcomers, particularly the college and university students relocate, to 'Buru', many are initiated into the culture.
Nicholas Ochieng who operates a boda boda in Buru, has seen it all.
"People here, old and the young, drink a lot during the night and day. Fights are normal and we see young women being beaten up by their men after drinking sprees all the time," says Ochieng.
Buruburu police boss Charles Kerich says it is hard to say how widespread domestic violence is because many cases may have gone unreported.
"Unless they are reported, we might not be able to document them. It will be hard to estimate the gravity of domestic violence," says Kerich.
John Mwaura, who has lived here for decades blames poor parenting, drugs and alcohol abuse.
"Most parents here have pampered their children so much that you can find a 40-year-old married man sharing the same roof with his mother. What do you expect? Conflict after another," says Mwaura.
Mwaura says many people from Buruburu Phase 1 to 5 schooled at Buruburu Phase 1 Primary School and have known each other since their childhood.
Mzee Mwangi, another resident, says, "When children mess, parents are quick to defend them or sort out the problem quietly without engaging the authorities. This is why we have many irresponsible young adults whose marriages and relationships end up in tatters."
Bishop Morris Mwarandu, the senior pastor at the Redeemed Gospel Church in Buruburu blames the residents for abandoning God and embracing worldly things.
"Calls by some people that special prayers ought to be held in the area will not help because praying is not like witchcraft. It is upon all of us to think where the rain started beating us," said the Bishop.
Bernard Muiya, a sociology lecturer at Kenyatta University says technological devices are heightening crimes of passion. "These things have a lot to do with advancements in technology. It has been happening elsewhere but now it is happening in Kenya. Spouses discovering their cheating partners through emails, texts and social sites cause a lot of problems," says Muiya.
Related Topics