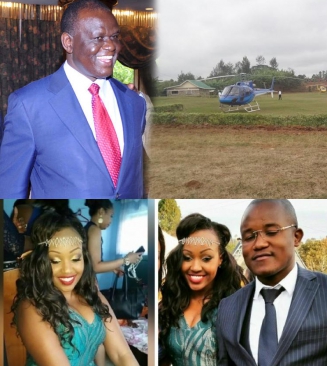 They arrived 'Luopean' style. The big contingent of the 'lakeside crew' came in choppers and fuel guzzlers and took over Meru town on August 8.
They caused traffic snarl-up and booked all the big hotels. They were the talk of town.
They were attending a pre-wedding party for businessman Jared Otieno who plans to marry Annabel Kendi, whose father Dr Shadrack Mwiti hosted them in his residence at Kathera in Imenti South.
A Luo was marrying a Meru beauty like a princess and Meru Senator Kiraitu Murungi quipped that Luos have unmatched style, and hence the reason beautiful daughters of the Ameru were disappearing towards the lake in hordes.
"A long time ago, the Ameru did not let their daughters get married to Luos. They used to worry about what they will eat in Nyanza, because they thought there was only fish, which they did not like," said Kiraitu, who revealed that his daughter is married in Kabondo, Nyanza.
Even he was taken aback by the showbiz arrival of the visitors.
"We usually judge the success of an event by the amount of good food available, but Wajaluo have said what is important is how you arrive. They have landed here in choppers. When we went to Homa Bay, we thought we had landed in style, but the Luos have landed here in much greater style. Wajaluo wapigiwe makofi!" Kiraitu said, and the guests, seated beneath beautiful tents in the residence, gave Luos a standing ovation.
Kiraitu went on to praise Luo men: "No Meru man can take care of a woman like the Luo. In Meru, the men concentrate on buying land, but the Luo man puts more importance on making his wife happy. Wajaluo wapigiwe makofi!"
Imenti South MP Kathuri Murungi observed that local murumes had run out of town and "left the town to Luos. Imenti South and Nyanza South are getting cosy as far as marriages go. It is good, because it is a way of bringing tribes together," said Murungi, pleading with murumes present to make a move on the Akinyis. "I hope our young men are 'shopping' around," he said.
The event was attended by Kisumu Senator Prof Anyang' Nyong'o, Siaya Senator James Orengo and Meru Governor Peter Munya.
Related Topics