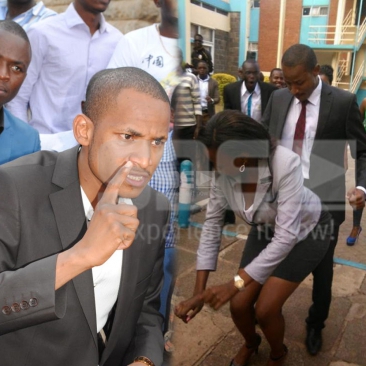 He has led the University of Nairobi's students body for a record three times. The Sonu leader who is not new to controversy spoke to MWAURA SAMORA about his re-election, alleged 'dirty dance' in public and what he discussed with President Uhuru Kenyatta
You have been elected Sonu Chairman so many times, some critics have labelled you a career student...
I have been elected Sonu Chairman for a record three times. Nobody in the history of the organisation has ever won the seat more than once.
This means that 'comrades' have faith and trust in my leadership. However, this is my last time in student politics.
Those claiming I am a career student should know that education never ends. It's like saying that professors and professionals who go back to school are career students!
Jomo Gecaga attended your victory party, what's your relationship?
Jomo is my personal friend. I have known him for the last seven years. He is also my business partner and we attend the same church, besides doing many other things together. And since I don't ask people when they meet their friends, I wonder why someone should worry when I meet mine.
Are you a Jubilee mole?
I have my own party called Party of New Alliance (Pona). If at all I am a mole, then I am a Pona mole. I am a busy man especially after I was elected president of Kenya University Students Organisations (Kuso) for a third time in a row. I will be travelling to Italy in a week's time where I will seek to be the World University Students Organisations leader. I ask Kenyans to pray for me.
Controversial businessman Paul Kobia posted on Twitter that he had donated Sh2 million towards your campaign kit. Is that true?
It's true that Paul Kobia contributed that much to my campaign because he is a friend and a comrade. Comrades also held harambees to raise money for the campaigns. Their parents too chipped in.
As Sonu Chairman, how much do you earn as salary? Is it enough to recoup your campaign expenditure?
I earn Sh6,000 per month some allowances here and there. I ran for this position purely because of my hunger to serve comrades. I ensure that Sonu money is used in bursaries for needy students and in our Secretariat and Parliament which is bigger than the National Assembly.
Some comrades claim you lack leadership qualities and that it's your money that wins elections...
Those who understand politics will tell you that money is just a facilitator in elections.
Comrades are way too clever to be bought with little money. Those who say that must know that I spearheaded the struggle to stop fee increment, demand for construction of new hostels, the return of expelled students and created opportunities for comrades to get internships and jobs.
Did you manipulated the 2015 Sonu elections ?
Sonu campaigns involves dealing with doctors, lawyers, teachers, engineers and other professionals, all of whom are intellectuals. They also come from different tribes, meaning you have to be a person with a national outlook. I had to sell them ideology unlike campaigning for a parliamentary seat in rural constituencies where you buy people with maize flour and cheap liquor.
When President Uhuru Kenyatta visited the University of Nairobi, you were seen whispering to each other. What was the conversation about?
Sonu is a 'government' that I lead. So what people saw was an interaction between two government leaders. We were discussing matters affecting the youth and people of Kenya since we are leaders. It was just like the way President Uhuru discusses matters with Paul Kagame, Yoweri Museveni or Jakaya Kikwete.
Which side of the political divide do you support? Cord or Jubilee?
As a student leader, I don't support any of the two sides because I lead students who are affiliated to Cord, Jubilee and other political convictions.
What next after student politics?
I will be vying for a parliamentary seat in 2017, then governorship in 2022 and the presidency in 2027. I am based and have interests in Nairobi, so the first two seats I will contest will be in Nairobi. I am however a nationalist and that's why I believe that one day, I will be the president of Kenya.
Many analysts have said that student politics have lost its mojo compared to the 70s, 80s and 90s...
Those are old people who are still hanging on the fantasies of their youth. They simply fail to recognise our work. Unlike in those years when their key goal was to agitate for multi-partism, today we deal with many issues, all of which are important. We don't need to be jailed or killed for people to know that 'student power' is still very much alive.
Why do you take controversial pictures like posing with a gun or gyrating against a female student leader's hindquarters?
You have to consider that software like Photoshop can be used to manipulate images that are then posted online. In the latter case, the photographer leaned at an angle that juxtaposed our bodies in the photo to look like we were dancing. We were actually addressing comrades.
Related Topics