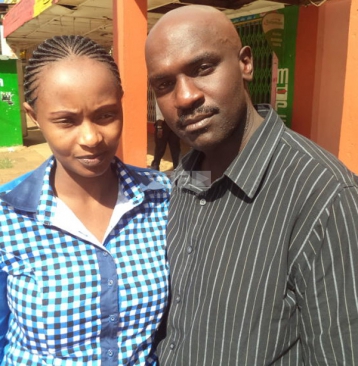 Levi Kones shot to prominence in 2013 after proposing to his girlfriend on live TV. While the experience was thrilling, he has never known peace after another woman claimed to be his rightful wife.
Kones hit the headlines on November 1, 2013 after proposing to Eunice Wangeci during the grand finale of the fourth season of Citizen TV's Slimpossibe.
A day later, an Eldoret court issued a warrant of arrest against Kones, after Faustine Naibei alleged he had assaulted her. Faustine claimed she had been neglected by her spouse Levi - whom she insisted had married her under Sabaot customary laws. The matter is yet to be determined by court.
Their love triangle sent tongues wagging in the country after their story was picked up by bloggers. A popular radio station devoted a whole morning show discussing men like 'Mr Kones,' who allegedly 'abandon their wives after making it big.'
Levi who emerged number two in the Slimpossible programme, and who now works at Kass TV as a talk show host, told The Nairobian the woman who claims to be his wife is now married.
"On April 4, Faustine secretly got married in a hotel in the outskirts of Eldoret town. Only a handful of selected friends and family attended the invite-only ceremony," said Kones, who furnished this writer with pictures of his former lover in a wedding gown. Kones claims the photos were leaked to him by a friend.
"In fact, she got married to the same West African guy whom she was in a relationship with at the time we were an item between 2010 and 2012. The same man from Gambia was the cause of our acrimonious fall out in December 2012," he explained. Levi divulged to The Nairobian that they had their first hearing of the case on November, 24, 2013.
"Interestingly in all the appearances in court Faustine has always introduced herself as my wife, calling herself Mrs Kones. Our next hearing is slated on June, 18, 2015."
" I am quite peeved that while she had been dating all along, and knew very well she was going to get married, she chose to be tied to me in the case where she alleges to be married to me," said Levi.
"If I was her husband, did she commit bigamy? Where are the divorce papers? If there was dowry paid according to Sabaot customs as she claims, did elders meet and annul our purported union? Or did she get married knowing full well she was never married to me in the first place and having ruined my reputation she can now have her cake and eat it?" When contacted for comment on phone, Faustine chose to remain mum on the subject and hanged up.
Levi said: "I have been prosecuted unkindly by people, however I am grateful because Wangeci has stood by me... I have taken custody of our two daughters from Wangeci's previous marriage. She has bravely borne the pressure of being taunted as wife number two, of which she is not," Levi said in conclusion. Levi's family has already concluded marriage negotiations with Wangeci's family and their church wedding is slated August 28, this year. -
- Daniel Psirmoi
Related Topics