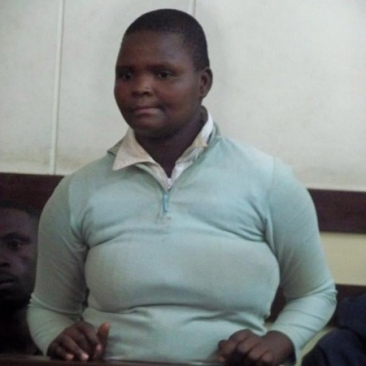 Sexually-starved maids are forcing boys aged between three and 10 to satisfy their sexual urges, The Nairobian has established.
As a result, experts are advising city parents to constantly monitor the behaviour and genitals of their little ones to ensure they are safe from sexual abuse.
While only a few cases have been reported, it has emerged that some parents don't report these acts for fear of victimisation and stigma.
Experts who spoke to The Nairobain fault parents for overworking housegirls and not giving them time off work. Poor pay, sexual starvation and lack of free time is what is apparently pushing house helps to molest innocent kids.
In one of the latest incidents, an 18-year-old mboch confessed to forcefully pulling the penis of a three-year-old boy and forcing him to lick her private parts.
Confession
Sarah Tamoi, was arrested on January 17 after the boy revealed to her parents what the maid had forced him to do.
In her confession statement seen by The Nairobian, Tamoi said her sexual desires made her force the boy into sex. She admitted that she later forced the boy to lick her private parts since he was incapable of having sex.
Tamoi who is now facing attempted defilement charge, had worked with the family for only two weeks. Apparently, she was recommended for employment by close family friend.
I forced three-year-old boy to lick my privates
Police charge sheet reveals that on January 16, in Zimmerman, Tamoi deliberately tried to have sex with a three-year-old boy at around 8am.
"I took the boy to her mother's bed, removed his clothes and mine before forcing his penis in me. I also told him to lick my private parts. When he refused, I slapped his head," she confessed to police.
"The boy reported what happened to her mother. I confessed and sought forgiveness but she would not hear of it," she added.
Scared boy dragged mother to bed and demonstrated the act
Sarah Mulot (not her real name), the minor's mother, told police that when she got home, her son ran to her and pulled her to the bedroom. She said the boy reported the house help and demonstrated she pulled his penis and forced him to lick her private parts.
Mulot said, "At first I could not believe it, but after she confessed and sought forgiveness I decided to report the matter."
Angry neighbours escorted the house help to Kasarani Police Station as the boy was taken to hospital.
Tamoi was set free on Sh1 million bond. Her trial begins on April 17.
In another incident, a family in Thome estate reported their housegirl for allegedly defiling their four-year-old son.
Private parts
Esther Auma, 25, was arrested and charged for defiling a minor on May 9, 2014.
Auma had allegedly been forcing the boy to stroke her private parts with his fingers and penis.
She was arrested after the child reported her to his parents, who later handed her to the police.
According to Mwangi, the child's father, they boy was taken to hospital where it was confirmed that he had developed rashes in his penis.
Auma denied the charges and was released on a Sh100,000 bail. Her trial is ongoing.
Close relatives molesting minors rarely face the law
A Nairobi West family which recently busted their house help with their eight-year-old boy and spoke to The Nairobian on condition of anonymity, said they decided to drop the case since their house help was a distant relative.
She was busted on December 31 in the bathroom where she was sexually abusing the boy, in the pretense of bathing him. The parents rushed to the bathroom when their son screamed, only to find the girl's panties on the floor.
Addiction to sex
The boy was taken to hospital after the 21-year-old house girl reportedly confessed to having gone without sex for more than three years.
Sexually molested boys likely to be 'sexual monsters' in future – counselling psychologist
Boys who are molested at a young age are likely to face sexual challenges in their adulthood, including fear of or addiction to sex, psychologists say.
According to experts, some of the factors that make house girls turn on small boys include poor pay and failure to do background checks. Others resort to sexual abuse to get back at their employers for mistreating them.
Allan Kimani, a counselling psychologist, argues that boys who are sexually molested by maids could face sexual challenges in future including, unhealthy sexual life and even hyper sexuality, a dysfunctional preoccupation with sexual fantasy often in combination with obsessive pursuit of casual or non-intimate sex, pornography, compulsive masturbation or romantic intensity.
"In the long run, a victim will experience psychological disorientation and could indulge in risky sexual behaviour," warned Kimani.
Some of the signs of a sexually molested child that parents should be on the lookout for include change in demeanour, unusual relationship with the house help, clinging to the parent, scratching of genitals or playing sexual games with other children.
In addition, boys attacking girls or imitating sex with girls their age could be signs of abuse.
Related Topics