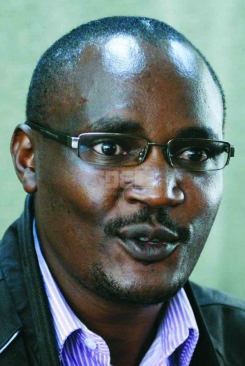 I joined the University of Nairobi's Lower Kabete Campus in 1992 to study for a bachelor of commerce (accounting) degree.
At the time, political temperatures were quite high, given the just-ended, longstanding struggle for multi-party politics. The face-off between the then ruling party Kanu and other parties left shockwaves that could be felt even in the universities.
Then, universities provided the arena where national and local issues were addressed. But things have changed a lot today. I took interest in campus politics from my second year. In fact, I was elected unopposed into the Student Organisation of Lower Kabete (Solk).
We spent most our free time hanging out with friends at Deep West club dancing to Musa Juma and Omondi Tony's Limpopo hits. I never drunk any alcohol, and I don't drink even today. I however had a host of friends who would drink the entire night - they are still my friends.
On matters love, I would say, university ladies loved me, but not Kabete chicks who probably feard my firebrand nature of politics. Most of them looked at me like a fish in the wrong pond. I had a girlfriend however, but she was elsewhere, for the entire four years. Most of us, except students from Eastlands whose lifestyle read like a magazine story, led humble lives. We christened Eastlands guys the 'Ozone Layer' class. After graduation, the UoN recalled me together with a few other students to help develop a Strategic Management Unit programme (SMU).
John Mbadi graduated from the University of Nairobi in 1996 with a bachelors degree in commerce (accounting).
-As narrated to Robert Amalemba
Related Topics