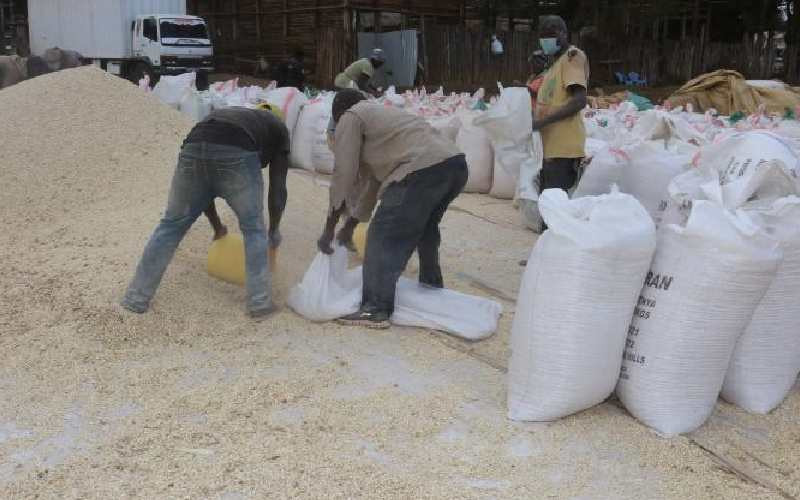 While Kenya perennially decries its inadequacy in the battle against drought, which hits every couple of years, food wastage is one of the biggest self-inflicted problems the country grapples with.
The storage facilities are overflowing during harvest season, but wastage due to lack of value addition and storage for the off-season leads to dependence on foreign aid.
A focus on improved preservation methods and processing could save the country from this food shortage problem, experts say.
World Food Bank Director Richard Lackey says that the country's response to food waste is fragmented and inadequate, and the problem is growing at an alarming rate.
The Food Waste Index Report 2021 by United Nations Environmental Programme and British partner organisation Waste and Resources Action Programme showed that every Kenyan trashes 99 kilogrammes of food annually.
Combined, the country wastes a total of 5,217,367 tonnes of food every year. Worse, Kenya was awarded 'medium confidence' in its commitment to control the disturbing habit.
It emerged that in Kenya, up to 61 per cent of wastage comes from households, 26 per cent from food services and 13 per cent from retail stores. This study researched and analysed 152 food waste data points in 54 countries.
Another study published in 2020 by the Food and Agriculture Organisation showed that an estimated Sh72 billion is lost every season by not addressing food loss and waste.
Global Hunger Index
Kenya ranks 87 out of 117 countries on the 2021 Global Hunger Index, indicative that food insecurity is serious.
The country ranked 84th in 2020. It could fare worse in the 2022 Global Hunger Index, in the face of what the United Nations terms as its worst drought in 40 years. It is one of the worst hit in the world.
Lackey said that if Kenya could better organise its agricultural practices, it would increase productivity and hence create food sovereignty.
"Kenya and Africa at large have a chance to leapfrog everyone and become the largest economy in the world in the next 20 years. The continent has better soils and more resources than all the other continents combined.
"Africa has to take hold of the reins and say 'we're going to do this ourselves', and it will host the healthiest economies in the world," said Mr Lackey.
He noted that most of the work that has been done in sub-Saharan Africa and most of the emerging frontier markets has been project-based or programme-based "where we try to solve problems such as seeds not being of good quality".
"The farmers then grow a lot more crops but there is no market because they harvested so much," he said. "There is also not enough storage because we did not think about the rest of the system."
He has come up with value addition for most of the crops that, produced in plenty, become scarce in the dry season. Farmers are taught to, for instance, dry their harvest as a way of preservation.
This also helps them pack more weight into a smaller space and therefore ship more quantity to the market.
Liver cancer
While Africans have always dried their produce as a means of preservation, Lackey says that improved methods of drying could significantly reduce incidents of ill health. Research by the Centre for Disease Control found that East Africans are 300 per cent more likely to develop hepatic cancer (cancer of the liver) than any other people in the world. This is due to poor storage methods.
"Most of the methods of preservation currently in use are harmful to human beings. We are also used to exporting the best quality we produce, leaving us to consume what is rejected by those markets," he says.
Before Lackey started the World Food Bank, an organisation offering sustainable solutions to hunger and food security issues across the globe, he worked in emergency medicine and was involved in medical relief missions in developing countries.
Through this work, he was exposed first-hand to devastating poverty and hunger.
He believes that poverty can be prevented and alleviated through better integration of industry and political systems, especially systems that are market-driven, regenerative, and sustainable.
"Governments, NGOs, and other industries mostly focus hunger-alleviation efforts on stand-alone programs and products," he said.
Globally, food wastage is rife. The United Nations Food and Agriculture Organisation (FAO) estimates that 1.6 billion tonnes of food worth approximately $1.2 trillion, goes to waste annually.
Related Topics