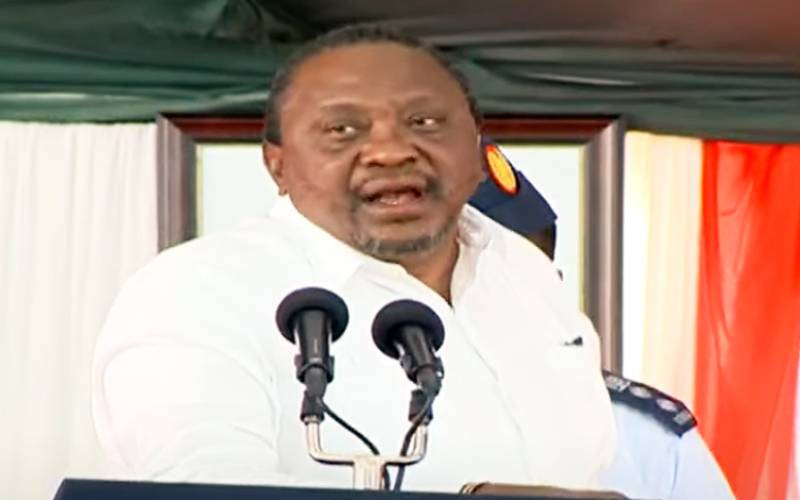 President Uhuru Kenyatta on Wednesday, July 27 sparked a light moment at the Nakuru Railway Station, when he recommissioned the rehabilitated 217-kilometre facility.
The president was speaking about the development projects that he had implemented, when a female member in the gathering shouted: "Uhuru, we love you".
Kenyatta, who was in the middle of his speech, rerouted his track of thought and responded: "I love you too. Thank you", drawing applause and laughter in the crowd.
The youthful woman was seated approximately 40 metres from the podium.
In yet another unusual moment, the president had to ask his security guards not to manhandle a woman, who attempted to catch his attention upon the completion of his speech.
"Ngoja kidogo. Nitakuona, tulia. Wachaneni na yeye. Keti chini mummy, nitakuona. (Kindly wait, I'll hear what you have to say after this meeting. [Security guards], please don't manhandle her. Please, sit down mum, I'll accord you attention," he said.
The president said the revamped Nakuru-Kisumu railway line would open the county to business opportunities, with a possibility of employing up to 25,000 residents of Nakuru County.
Rehabilitation of the 217-kilometre Meter Gauge Railway started in August 2020, and was to be commissioned in December 2021, when President Kenyatta awarded Nakuru a city status charter.
However, the commissioning was postponed in unclear circumstances.
The project cost the government at least Sh3.8 billion.
"The Nakuru-Kisumu railway line will improve the transportation of passengers and cargo," said President Kenyatta when he launched the project on Wednesday.
On Tuesday, July 26, the president visited Olkaria, Mai Mahiu Station, Naivasha Inland Container Depot, the Suswa Water Project and the Turkish Ceramic Granite and Tiles SEZ Limited, all within Nakuru County.
Related Topics