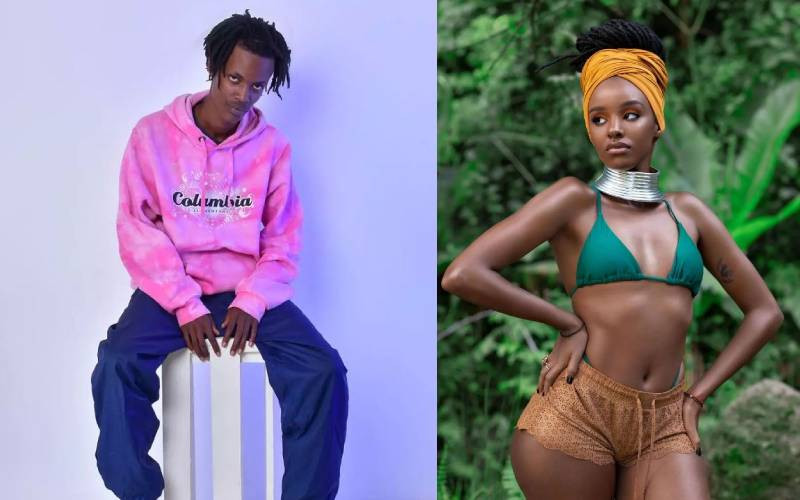 Famous Machachari actor Tyler Mbaya alias Baha's brother, Mungai Mbaya, and his long-term girlfriend, Mo Aisha, have ended their relationship.
Announcing the news of their breakup, Mungai explained that he only made the split public to stop fans from regularly questioning him about Aisha.
In the post via his Instagram stories, the social media influencer revealed that he and Aisha had amicably decided to go their separate ways after things in their relationship turned out the opposite of what they expected.
"So check it, shorty and I broke it off recently. Some of yall may have realized. Some of you on some Stevie wonder sh*t. I chose to address it because I'm getting tired of all the questions in the dms. We straight though, got nothing but love for her. Pretty sure she feels the same way. Things just played out differently than we'd hoped. Always be baba and mama lyric," he wrote.
The duo's breakup comes a few months after announcing they switched to a polyamorous relationship that allowed them to have sexual relations with other people outside their relationship, a decision Mungai says was Aisha's idea.
What happens if Mungai falls in love with the other lady? A curious fan asked at the time, to which Aisha responded saying;
"We all know our stand in the relationship and I know Mungai. If he was the type of a man, we wouldn't even be dating or I wouldn't even have brought this up but he is not. If either of us ever falls in love with someone else, we have a conversation and we will break up because that is where you stop fighting for someone but we won't stop being friends. Otherwise, nothing can break us."
View this post on Instagram
Mungai and Aisha's relationship was shaken to the core sometime last year after losing their newborn child. Although individually devastated by their son's death, the two lovebirds stuck by each other's side.
Opening up on the matter, Aisha expressed how heartbroken she was by the passing of her child Lyric.
"I'm literally shaking typing this because I'm still in shock. I can't believe my baby is gone and I'm never going to see him. He fought so hard to stay with us but he was in too much pain. He decided it was time for him to rest. He turned a month old today but he couldn't go any further. I had so many plans for him and it really hurts that I'll never get to see them through with him. I can't believe my son is gone.
Related Topics