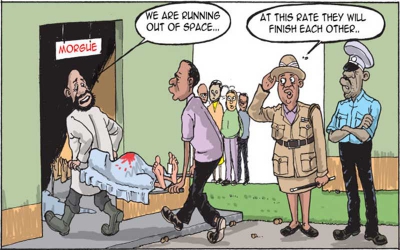 Meru County is becoming infamous over the high murder and defilement cases
A chief has called for anger management classes to be offered to residents of the region
Meru County is associated with many good things, including the miraa (khat) crop, the 'green gold' that keeps the area's economy kicking. It is also blessed with beautiful landscapes, natural resources and great people.
But it looks like the locale is slowly but surely on its way to earning infamy across the country by acquiring the dubious tag of having the highest number of murders and defilement cases.
While many of the murder cases arise from land-related disputes, news that Meru leads in defilement cases is shocking to a people reputed to be self-respecting and law-abiding.
It was Meru Chief Magistrate Lucy Ambasi who recently unleashed the bombshell that shocked residents and the human rights fraternity.
"Meru is increasingly becoming infamous for having the highest number of murder cases in the country. Meru is equally infamous for having a very high number of defilement of our young girls in Kenya. We need to have a very serious discussion about that issue," Ms Ambasi told participants at a human rights convention a few days ago.
A survey conducted by the national government put the number of murder cases in 2015 at 351, the highest in Kenya that year. Today, the number has almost doubled, with various factors such as land squabbles, drunkenness and anger being blamed for the atrocities.
In September this year in North Imenti, a secondary school tutor was reported to have been killed by a bartender (said to be his girlfriend) for being overly generous to friends.
A witness claimed the girlfriend identified as 28-year-old Faith Kanario, did not take kindly to her boyfriend's magnanimity of buying his friends drinks with reckless abandon, yet he had denied her pocket money.
She is said to have stabbed Samuel Mburu twice on the back, stomach and chest before she was arrested and charged.
In September in Igembe North's Antuambui area, a man killed his wife named Grace Kiamuri after suspecting her of unfaithfulness, according to Assistant Chief Romano Mwenda.
The chief decried the short-tempered nature of the majority of the populace, whom he claimed need to be taught how to manage anger.
"We might be forced to start anger management classes for some of them," he said.
In Igembe Central, one of the main growing areas of the lucrative miraa stimulant, a man killed his son after he accused him of stealing and selling his crop. The man fled shortly afterwards to escape the wrath of neighbours who torched his house. The two also had a long running land dispute.
The murder cases have worried locals, security bosses and leaders. Last Tuesday Meru Governor Kiraitu Murungi announced he would convene a meeting of all parties to land disputes for a resolution.
Governor Kiraitu lamented the huge number of unresolved land cases in Meru courts and announced he will convene a meeting to discuss the issue, with a view to restoring peace in the community and arresting crimes associated with the disputes.
"I want to call a meeting of all those people with land cases in January and February. They come we discuss with them to see whether we can resolve those cases out of court," said Kiraitu
His sentiments were echoed by County Commissioner Wilfred Nyagwanga. Leaders, among them County Assembly Majority Leader Victor Mutuma, said lack of title deeds was a major contributor to crime and poverty.
"It is a shame that 54 years after independence people do not have title deeds," said Mr Mutuma.
Mr Nywagwanga said Lands Cabinet Secretary Jacob Kaimenyi had recently opened a land registry in Tigania to address lack of titles in the Nyambne area, where many murder cases related to land disputes have been reported.
Related Topics