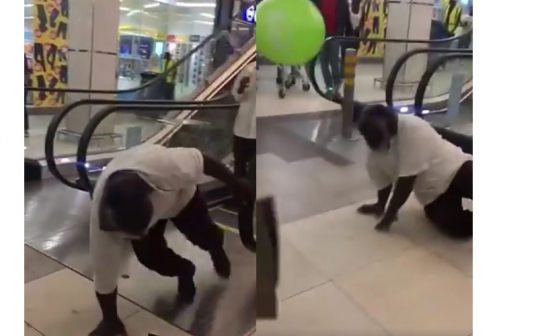 The installation of the first ever escalator in the South Rift Valley by Naivas supermarket in Kericho town last month has created a buzz; not just in the region but on social media.
Thrilled locals have been thronging the supermarket not to shop, but to ride on the moving staircases.
"Some of the joyriders arrive here and go straight away to the escalator to have fun," said Ng'eno, a local, adding that other are so scared, they only watch the joyriders from a distance.
The supermarket, which is located at Simba Mall next to the Kericho Law Courts, has since turned into a scene of drama and comic relief, with several of the first time users falling off and in the process providing a source of entertainment for onlookers.
The few locals who successfully use the escalators are always cheered and clapped for by their friends and curious onlookers.
"Some villagers literally sit on the staircases, fearing to fall as it moves," said Ng'eno.
There are many video clips of the drama that takes place on the escalator, with some going viral on social media.
In one of the videos, a scared grey-haired man is seen riding down the escalator, only to slide rather awkwardly at the end, leaving curious onlookers in stitches.
The viral videos have caused mirth not only to Kericho leaders led by Belgut Member of Parliament Nelson Koech but also to Nairobi Governor Mike Sonko who shared one of it on his Facebook page with the caption: "Hapa siwezi resist kucheka!"
In yet another short video clip, a man is seen hopping on to one of the moving staircases before falling and rolling to the ground floor.
The fascination and the drama around the escalator has led some of the residents on social media to plead with Naivas Supermarket management to spare a day to teach their Kericho customers how to use it.
"Naivas should spare a day and teach locals how to use that escalator," wrote Siney Nathan on Kericho Reports, a popular WhatsApp group.
"Naivas should encourage customers with a phobia of using the escalator to use the staircase," said Scotty Vincent. Speaking during the opening of the supermarket, Kericho Governor Paul Chepkwony said his tour of the supermarket had almost led him to believe that he was window-shopping in United Arab Emirates' Dubai.
"At least most of the Kericho residents know about lifts. However, Naivas is the first building with the first escalator in the region. Shoppers will not have to break a sweat as they go up and down the building," he said, as he asked the management of the supermarket chain to purchase and sell local products, especially cash crops.
Speaking during the same function, former Roads Minister Franklin Bett asked local investors to also venture into major business enterprises to help modernise the region.
Related Topics