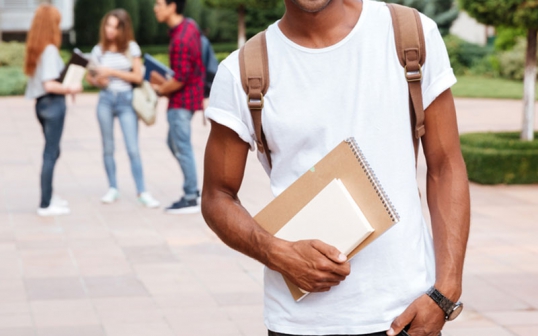 In Nairobi, business is cutthroat. The quest for livelihood is palpable in the quick paces of city dwellers along the streets.
The same goes for money savvy university students who change their lecture hall garbs for street smart casuals, much like a chameleon with intent.
All over the city, university students own bathroom-sized stalls. Some sell second-hand clothes. Others have put up shops for printing, photocopying, binding and lamination.
The race to earn a shilling or two is getting stiffer by the day. And now, some students are trading their sperms.
"The nature of life is that you give someone something they need and they compensate for it: it is called business," Tom, a student at a university in Nairobi says as matter-of-fact.
Tom is one among hundreds of prospective graduates who donate sperm for a fee on a regular basis.
"What I have is a precious resource. If someone needs it and they are willing to pay me, why not give it to them?" he says. "I also want to make money to sustain my needs at school."
Tom has so far donated three times; for which he received Sh14,000 each time. "That is a lot of money for a student. It is better making your own money than calling relatives or friends who gloat after sending you Sh300."
Tom hails from a poor background. In Nyalenda, Kisumu, where he grew up, earning Sh14,000 for something as small as an ejaculation, was unheard of.
There are two official sperm banks in operation — at Kenyatta National Hospital and Nairobi Fertility Clinic — in the whole of the country. However, there are tens, if not hundreds of backstreet outfits.
Infertility specialist and gynaecologist, Dr Wanyoike Gichuhi, who works at Nairobi Fertility Clinic, says sperm banks are meant to assist couples unable to conceive on their own get pregnant.
Any man who is younger than 50 years can donate their sperms at the clinic. However, the clinic prefers donors from universities: aged between 19 and 26.
"Often the men in this group haven't started a family and would be in need of pocket change to do a few things for themselves," Gichuhi says, adding that they discourage married men from donating.
University students are also likely to possess a higher than average IQ. Though, Gichuhi adds, IQ of the donor is not the most important factor they consider in a donor since there are a multitude of factors that contribute to the intelligence of an offspring.
The clinic, however, records the race, complexion, height and other physical fitness parameters of the donor.
"What we don't record is ethnicity. We don't think it is an important factor for those interested in having healthy babies," Gichuhi says.
Tom, 23, joined university as a JAB (Joint Admission Board) student to study medicine. Had he not made the cut-off mark, he doubts he would ever have made it to university.
Dangers of donating several times
Life was already wearing thin on the edges when he set foot on campus. Apart from Higher Education Loans Board money, Tom has no other sources of finance.
He is now preparing to go for a fourth donation.
"It is really not hard," he says. "On the actual day you are giving the sample all you have to do is drop your pants and masturbate into the container."
"It's so easy. They give pornographic material to stimulate you, for those who can't do it by themselves," says Tom. Tom says he needs the money. And that he will likely go for many more rounds, if that is what it takes to survive through six years in medical school. According to Dr Gichuhi though, it is not recommended that a donor donates more than three times in a life time.
"If a donor donates many times there is a risk that the children borne of his sperms may actually meet in a sexual relationship in future."
In other words a brother and a sister from the same father may end up as a couple leading to incest. Incest can lead to babies being born with congenital conditions. Austin is Tom's friend and classmate.
Austin got to know about sperm donation from Tom and got interested immediately. Unlike Tom, Austin comes from a middle class family. "I was just fascinated with the phenomenon," he says. "The rush of adrenaline; the sweet feeling that you actually have something that not all men have; the realisation that it is precious and someone will pay for it; the ecstasy that comes with masturbation." The money, Austin says, is the bonus.
At Nairobi fertility clinic, Gichuhi says, donors are given Sh2,000 per visit. "There are several visits that they have to make as we check them for physical illnesses as well as venereal diseases."
The money the donor receives in total could go as high as Sh15,000. The whole process – from the first day at the clinic to donation and the testing of sperm quality – could last for months.Another university student, Apollo, taking engineering, is left gobsmacked when he learns that his sperms could fetch him Sh14,000.
Apollo boasts that he carries bushels of semen in his reservoirs and could make millions if allowed to let it flow.
"I would give every week. By the time I am graduating I would have enough money to start my own engineering firm," he says, before asking for more information about where to go. Campus life, Apollo says, is hard without money. Even those who have enough for upkeep need more to have a zestful life and experience fun.
Apollo receives Sh50,000 from Helb. About Sh35,000 will go to paying for his school fees.
The surplus is what he stretches into a year's worth of upkeep. He always comes up short. In a day, Apollo spends Sh50 on breakfast, Sh70 on lunch and a similar amount on supper. This makes Sh190.
For three and a half months he is in school for one semester he would spend nearly Sh20,000. "For those of us who only depend on Helb, it is not rosy surviving on Sh15,000," he says. "You have to borrow or find other means to make money."
Apollo has worked odd jobs like writing assignments for other students abroad through various websites, and selling vitamin supplements for a business that functions like a Ponzi scheme. "It is not easy work," he says.
That is why he vows to make his way to the sperm bank, where with a weekly diet of roasted peanuts he can make Sh14,000 by stroking the magic wand.
Related Topics