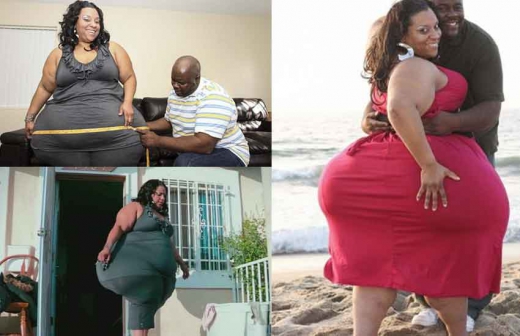 Mikel Ruffinelli
currently holds the record of widest hip in the world
Mikel was born a normal-sized young woman in USA before she ballooned after her first child
Her hips measure an unusual 8 feet (2.4 m) in circumference
Her waist is only 3 feet 4 inches (102 cm) and eats an average 5,000 calories a day
Mikel Ruffinelli is not your ordinary date. She is not just big and beautiful, but is the proud owner of the largest hips in the world.
Her hips measure an astonishing eight feet in circumference.
Somalia
The bombing in Mogadishu last week was the worst ever witnessed in Somalia, killing more than 300 and injuring more than 300 more innocents going about their business in the capital.
The atrocity dwarfed the Garissa University attack in Kenya of 2015 and the US Embassy bombings in Kenya and Tanzania in 1998. I stand with Somalia. Viva Somalia!
Largest aeroplane
The world's largest aeroplane to ever take to the skies is the Soviet Union-era Antonov An-225 that was designed to transport the Buran space shuttle.
Today, it is parked in a hangar in Kiev, Ukraine.
This legendary piece of engineering is currently grounded because there is simply little demand for its highly specialised and relatively costly service.
To hire the An-225 one will need to cough up some $30,000 (Sh3 million) per hour. Last year, it was hired for two jobs that took three months.
DRC and Congo
Kinshasa (DRC) and Brazzaville (Republic of Congo) are twin cities in different nations separated by River Congo.
They are the only capital cities in the world that are neighbours.
Kinshasa is also the largest Francophone capital in the world (after overtaking Paris in terms of population) and third largest city in Africa after Cairo and Lagos.
The Democratic Republic of Congo is the most resource-rich country on Earth, boasting sales of the uranium that runs half of the world's power plants, is in the tips of the warheads of one-third of the nuclear-armed nations, gold, diamonds rare earths, coltran and a long list of other minerals.
If exploited well, the DRC can light up, irrigate and feed all of Africa,
Theresa May
Theresa May, Prime Minister of Britain who leads the Conservative Party, was a top student in school and went to Oxford University.
She held powerful Ministerial positions before becoming Prime Minister. Her parents were Anglican pastors. She is template British.
In contrast, Jeremy Corbyn, Leader of the main opposition Labour Party, was reportedly, a mediocre student who just managed a grade 'E' in High School and did not pursue the study genie any further.
He is an avowed socialist with no religious beliefs. His wife is Mexican and his political and religious beliefs are at odds with majority British.
Yet, he is seen as the most likely next British PM. Is education overrated?
Safari Rally Motorsport
The first "African" to complete the Safari Rally Motorsport in Uganda can be traced to the 1950s, when Kenya, Uganda and Tanzania jointly ran the East African Safari Rally.
It was a Ugandan privateer, Sospeter Munyegera, who participated in 1969, driving a standard showroom Saab and completed the gruelling course.
Information ahead of the 19th Chinese Communist Party Congress this past week, it turns out that while the global unemployment rate hovered around 5.8 per cent for a while now, China's joblessness has seen a steady decline.
The overall Chinese income increased 8 per cent in 2016, tripling the global average at 2.5 per cent.
Besides employment, more than 1.3 billion people are covered by the Chinese medical insurance system, which is the largest of its kind in the world.
Mauritius President
With the exit of Liberian President Ellen Johnson Sirleaf, Mauritius President Ameenah Firdaus Gurib-Fakim will be the only remaining female head of state on the continent.
Gurib-Fakim is only one of three women heads of state or government in Africa including outgoing President Sirleaf and Namibian Prime Minister Saara Kuugongelwa-Amadhila.
A biodiversity scientist with a doctorate in organic chemistry, Gurib-Fakim has been president of the island nation of 1.2 million, situated east of Madagascar, since being elected by the National Assembly in 2015.
And she has been at the head of the economic transformation Mauritius is currently boasting. Tafakari hayo.
Catalonian
As the Catalonian leaders spend some quiet time reflecting in jail over their "Madrid nos roba (Madrid is robbing us)" secessionist slogan, the region of Catalonia is comparatively wealthy and contributes substantially more than it gets out of the Spanish national government.
Analysts claim that Catalonia is richer than other parts of Spain. It is home to just 16 per cent of the Spanish population, but contributes 19 per cent of Spain's GDP and more than a quarter of the country's exports.
In matters tourism, it attracted 18 million of 75 million people that visited Spain last year. Tarragona has one of Europe's largest chemical hubs; Barcelona is one of the EU's top 20 ports by weight of goods handled; About one-third of the working population has some form of tertiary education; Catalans pay more in taxes than is spent on their region.
Consider this: In 2014, the last year the Spanish government has figures for, Catalans paid nearly €10bn (£8.9bn) more in taxes than reached their region in public spending.
Related Topics