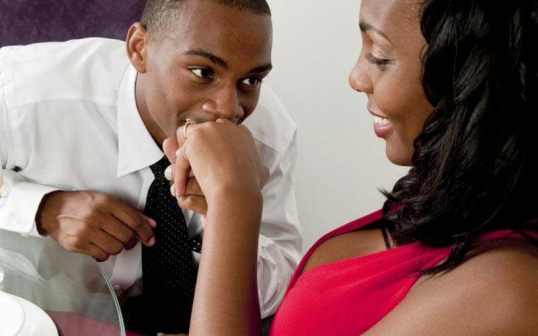 If you are a philanthropist, keen on making the so-called modern Kenyan woman happy, please don't get her a high-flying career, give her a rich boyfriend or husband instead! If word on the street or testimonies from those interviewed in this report are to be believed, most of these women itch to have rich boyfriends or, better yet, get married to wealthy men than landing a well-paying job.
More than ever, most Kenyan women are determined to bag a relationship partner who can improve their financial status.
"Women world over aspire to 'marry up' the social ladder. They prefer men who are better-educated and with more money, so who am I to go against nature? Give me a rich man any day!" says Rose, a newspaper editor.
Rose adds that she is allergic to broke horny men whom, she says, are the most 'stubborn', for they really stalk and irritate women.
"Why would I add more problems to my own? In fact, broke men have no right to carelessly get horny. That energy should be directed elsewhere, for instance, to making more money," she sneers. "If I was to pick between a well-paying job and a rich husband, I will go for the latter without even thinking twice."
Hellen, a city business lady, says no sane woman, including herself, would dare get married to a poor man.
Lazy or work-weary?
"It's a no brainier. Women want a man to compliment them. Of what use is a man if he can't provide for and pamper his woman? Generally, women, in most cases, use marriage as an alternative or supplement to their employment. A man who is not financially stable should never get married," says Hellen, adding that if she was to get married to a wealthy man, being a housewife is an option she would easily consider.
A while back, Ruth, a female executive who had returned to work after maternity leave, tickled this magazine's editor when, after a single glass of wine, tearfully confessed she was desperate to get pregnant again so she could give up work or do it part-time, if only her (rich) husband allowed her.
"I feel like prioritising and spending some time home with kids rather than working, so long as he brings home the bacon," she giggled, and quickly adds: "It's not that I'm lazy, it's just that I'm a little 'work-weary' and need a change of lifestyle."
Keith Ogutu, a city resident, says women have increasingly become lazy and want shortcuts.
"They want ready-made husbands. They no longer appreciate procedures and hard work. When they are not running off with other women's husbands they are fighting over rich boyfriends. They now hunt for men with resources, and once they get them, looking for employed, even if the jobs offer handsome salaries, will be the last thing on their minds," says Ogutu.
Cross-generational marriages
A while back, a photo went viral. On it, an old haggard Nigerian governor locking lips with a young beauty at their wedding. The picture left many wondering what really inspires cross-generational dating and marriages. Why would a woman give in to the advances or a man old enough to be her grandfather? Some asked.
The lady was tall, slim, with bits of flesh in all the right places— she looked like she had won five consecutive annual beauty contests. Her complexion is what Sheng speakers call, rangi ya thao (figurative for 'highly valued'). The old geezer, looked unfazed. His wrinkled face threatening to slough off his pronounced cheekbones. If a picture is worth a thousand words, this one was worth a million, so to speak.
"My goodness! What is she doing with him," was Dan Omondi's first reaction. "He is old enough to be her great grandfather." However, Omondi posed and looked at it analytically and saw a business deal!
"Women have changed over the centuries. In the old days, chemistry between lovers was necessary and genuine. But today, women want men who can buy them a life of luxury," opines Omondi, who graduated from a local university in 2013.
Cute women date rich men
College, he says, was the bedrock of dating. Female students dressed with risqué candour, affording the roving male eyes with enough eye candy. In the testosterone charged environment, like any normal man would do, Omondi tried to seduce a couple of campus ladies, but most turned him down.
"I believe my mistake was going for the most beautiful. They only loved hanging out with the rich boys. The only money I had at the time was my HELB loan. I couldn't afford to misuse it by taking girls to fancy places for lunch or dinner," says Omondi.
Blame capitalism, says Mary Muthoni, a sales lady with a top engineering company in Nairobi. Muthoni wonders why a girl would want to subject herself to a life of misery, struggling to make ends meet. Between happiness at the back of a bicycle, and gloom nestling on a Range rover backseat, she knows exactly what her choice would be.
"Let me be sad my whole life if that's what it takes for me to realise a good life," she says.
Everybody hates work
"I dream of vacations abroad at exotic places, driving beautiful cars, and living in a state of the art mansion. Every woman wants that— let none cheat you that they could get by with modest living. All human being hate work, if a rich man comes by, then, to hell with a well-paying job!" She adds that if she was to get married to a poor man, more so earning less than her, she might not respect him.
It's widely believed that most women feel attracted to men who spend more money on them. A man's resourcefulness primes him as an ideal male. However, while such men are on the hunt for short-lived pleasures, such as one-night-stands, the women hope to change such men, and turn the fling into a long-term relationships.
Itch for ready-made hubbies
This is not so unorthodox, claims Wandia Maina, a Nairobi based psychologist. She says it's obvious for women to get attracted to men with resources. She observed that the difference between the current generation of women and those of decades gone by is as stark as day and night.
"Our mothers looked for hardworking men; the kind they would build wealth together. They were willing to put in the extra work to rise up the ladder in the society. They demanded very little and rarely fancied men with flashy lifestyles," she says.
"The young girls today prefer the easy way out: they want to live beyond their means. And are desperate for ready-made husbands. They earn little, but want to drive expensive cars and reside in leafy addresses. One of the ways they sustain such flashy lifestyles is by sleeping with rich men in return for money and niceties," Wandia says.
And while it is normal to desire the fine things in life, according to Wandia, having it by exploiting the rich only offers short-lived satisfaction. The method is futile for those seeking happiness.
Last year, famed musician Kendi was in the media for all the wrong reasons: that she dated a rich white man who threw money at all her problems; gave her lots of pocket money, moved her to a better house and bought her cars to run a taxi business.
"The story was all made up," she defends herself, adding, "I never loved the man for his money. The relationship was very serious; I even took him to meet my parents. We broke up later; not because he couldn't afford the money any more but because of irreconcilable differences."
Money not main attraction
Kendi says she looks at a man's character before making up her mind on whether to give the relationship a shot or not. "The man has to be intelligent. He has to respect me. Whether he has money or not is a non-factor. I make my own money," she offered.
Not long ago a Kenyan TV girl declared her loathing for local men. She went on spewing the venom: "They are not romantic; they don't know how to woe a woman." Her sentiments incensed Kenyan men on social media, so much that some dismissed her, claiming she was a gold digger.
Love doesn't pay bills
According to Wandia, the ability to provide in abundance has been used by men, albeit subtly, to get the girl of their choice. By acting rich and able, men are sending an evolutionary message that they can provide.
At 32, Sofia rues the prospect of marrying a "struggling man". She says: "It would be absurd that two adults, who are married, are surviving on handouts from friends. At this time of my life I don't need a man with potential. I need a man with the ability to care for a family."
In all this, Dr Halimu Shauri, a sociologist and lecturer at Pwani University, sees no misnomers. According to him, 'love' is a construct of the society. He says, "In reality though the basic human instinct is driven by needs and demands for survival and love doesn't pay bills".
"Life is about choices. On one hand you may hunger for companionship; on the other hand you need to eat and survive. Somewhere in the equation of love, money is involved," Halimu points out.
Evolutionary instincts
But even in our own upbringing, Halimu notes, men and women are socialised to take up certain gender roles that conform to evolutionary instincts.
"Men have the ability to amass wealth and women know exactly how to massage a man's ego. Women, in many occasions, want a man who can care for them and take up the role of securing their lives. Men have carnal needs which further translate into egos that need to be massage. It is a fair trade," Halimu says.
In fact, Halimu concludes by saying that a deeper analysis would reveal that the disparity in men's and women's needs is the reason behind existence of prostitution.
Related Topics