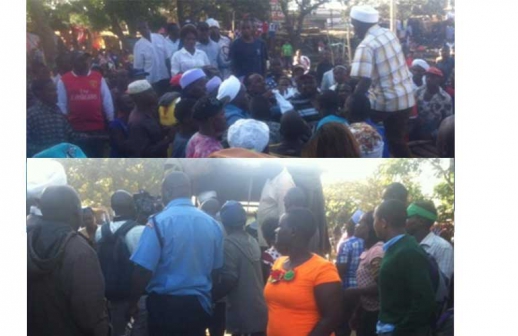 With their deep-seated reservations, members of the Akorino faith hold their religious regalia, especially their trademark white turban, in very high esteem.
So when one faithful, Sammy Mwangi, a local musician commonly known by the stage name 'Wagithomo' in Kabati Trading Centre, Murang'a County was discovered to have been acting in contempt of the faith's doctrine, he was bound to face dire consequences and repercussions.
After unsuccessfully trying to prevail upon him to stop performing secular songs in night clubs while donned in the faith's trademark white turban, they plotted to raid him and confiscate his religious garbs, turbans and all the paraphernalia associated with the sect in his possession as punishment.
"Fellow Akorinos were unhappy that he was tainting the sect's image because some of the lyrics in his songs were vulgar. Some even claimed they were getting mocked and ridiculed because of the naughty singer," said John Njoroge, a local.
Njoroge added that things got even worse when Wagithomo was spotted performing some of his new popular 'dirty' songs, "Thii Ukiumaga (loosely translated to 'go drying')" and "Kihiki Understanding (a song full of sexual connotations)" on a vernacular TV station.
So tainted was the Akorino's reputation in the area that some members of the public were reported to have been derogatorily using the phrase, "thii ukiumaga" to great members of the faith.With the reckless assumption that such a move — confiscating paraphernalia associated to the faith in Wagithomo's possession — would punish and tame the musician, a bunch of angry Akorinos traced his whereabouts and began trailing him with the intention of cornering him to teach him a lesson.
"They tracked him with the aim of confiscating his turban and frog matching him to his home to pick his other regalia for going against the teachings of their doctrines," said Njoroge.
Upon spotting him, tens of the Akorinos who had been trailing him in a convoy of several cars attempted to pounce on him, only for him to take off towards a nearby market, wailing for help.
"Uuuuwi, Ngai fafa! They want to kill me," he was heard yelling.
The move attracted the attention of curious onlookers who turned against the akorinos and began pelting them with stones.
"The locals accused the Akorinos of being envious of one of their successful musician village mate, defending him as a 'hustler' who was just trying to eke a living to feed his wife and daughter by singing naughty songs," said Njoroge.
It was officers from the nearby Kabati Police Station who swung into action and stopped the pandemonium. The authorities arrested some of the Akorinos for "disturbing the peace" and are set to be arraigned in court this week.
Related Topics