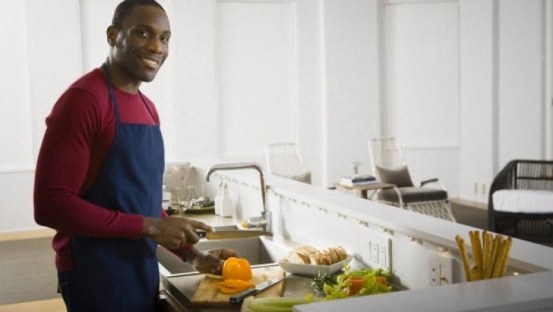 Will we ever reach a point where women aren't expected to be homemakers? The year is 2017 and traditional societal expectations are still rife in many households. A vast majority of married Kenyan men are still under the impression that the kitchen is a woman's domain.
I personally know quite a few traditionalist men who would sooner starve to death than rustle up a meal for themselves.
According to their warped way of thinking, a man should not be caught dead preparing food unless of course it is the occasional barbecue of their beloved nyama choma which they consider sufficiently manly.
Other than that, a man donning an apron is emasculating. They believe that cooking robs men of their masculinity.
Once a man gets hitched, he is a superior being who has no business doing "women's work" which he considers degrading and inferior and it is only a woman who should have to stoop that low to perform them regardless of whether she has a career too and works the same hours as him.
Once the two get home from a gruelling day of work, the man becomes a permanent fixture in front of the TV while the woman slaves away in the kitchen. Asking him to help out in the kitchen or in cleaning would be considered preposterous.
Such married men demand that their wives cook and serve them as an obligation. It is a sad state of affairs. I know of women who have had to grind away in the kitchen while unwell lest their poor husbands be robbed of his masculinity by the simple act of putting on an apron.
It is unfair that career women are expected to do it all; earn money, be good mothers and be good homemakers. The problem is that these men were brought up that way and no one has ever challenged them on their beliefs. If anything, his parents enabled his sexism. Woe unto you if his mother gets a whiff of the fact that you are making his son prepare meals!
He may not express this sentiment explicitly but on a subconscious level, men who refuse to do housework think that women are inferior to them. Men are adults and should share the load of cooking too. There should not be a blanket expectation that the wife should have to cook every meal, especially if she is working too.
It doesn't matter which era you were born in or how you were brought up, it is wrong for you to accept these social constructs as the gospel truth. Gender roles shifted.
Ladies, it is time you stood up for yourselves. A man lending a helping hand in the kitchen is not emasculating. Do not let him degrade you as a woman. Nip this behaviour in the bud as soon as you start cohabiting.
He should know right off the bat that housework should be shared if both of you are working. Leaving all the housework to you is a reflection of a sexist attitude. There is no such thing as "women's work". You are an adult.
You should be able to take care of your own stomach and hers for that matter if 'wifey' is not around or she is just not feeling up to it.
Related Topics