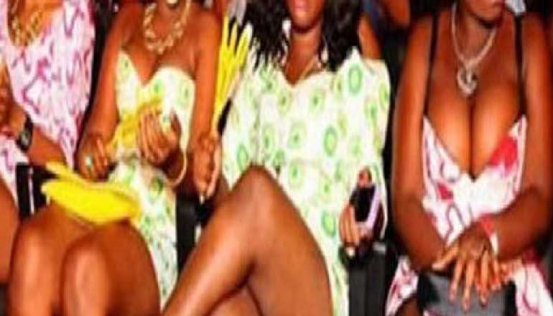 Husbands are in high demand and single women are flocking churches on the hunt. However, whereas young women in Church were once welcomed and accommodated by the entire congregation, today, a section (married women) are hostile to them and will not allow them easy access to their husbands. The married women fear that single women are not there to date single men, but their very own husbands.
Thus, like a cat marking its territory in every room, so do the married church women tether their husbands. In some churches, especially on Nairobi's Ngong Road, married women even follow their husbands to the washrooms to protect them from the clutches of single woman. "Husbands are scarce and if you let yours go, you will only have yourself to blame," is the general rule.
A single woman visiting a church toilet shouldn't, therefore, be surprised if several married women follow and monitor her movements until she resumes her seat. The pastors' wives are reportedly the most jealous and will not even offer single women a greeting or invite them home for tea. Neither do the married women visit the singles at home. Christmas holidays are said to be the loneliest for single women as no families invite them for Christmas lunch or dinner.
The scramble for husbands in churches has definitely taken an interesting turn. Before, women attending church would dress decently —short or covered hair, long skirts and full-length blouses. Today, they dress as if they are going on a date or to a night club. They wear mini-skirts, huge, dangling earrings the size of ostrich eggs, nails painted red, spaghetti tops revealing bra-less chests and high heeled shoes with which they tap the church floor noisily as they collect offerings. They are further alleged to sing extra loudly to catch the pastor's attention with their fake angelic voices.
Some single ladies, their body language suggestively sexy and their lips painted a wild red, even approach the Lord's table and partake of the Holy Communion in clothes that make the pastors' knees wobble. One choir member at a church on Ngong Road wears the shortest red mini-skirts in Nairobi and every Thursday evening during choir practice, she bends whenever the pastor passes to display her pair of flaming red pants! The pastor's wife does not attend the choir practice any more.
Hell pastors, men go through in churches
She seems to have been edged out of her husband's territory. Indeed, the way some single women have been scrambling to get the front seats in church pews leaves a lot to be desired. Not only do they sit without crossing their legs, but openly expose their thighs to the Pastors at the dais.
According to observers, some even wink at the pastors when people have closed their eyes for prayer, forcing married women to pray with their eyes wide open. At a famous church on Ngong Road, a church elder-cum-lawyer, while filled with the power of the Holy Spirit, confessed seconds before giving the main sermon that he had been adulterous and named a certain single woman in the congregation.
The elder's wife walked to the woman and gave her a thorough beating bringing the service to a halt. Still, the greatest temptation for pastors are the suggestive dancing styles that would even put Fally Ipupa to shame. The single women gyrate their hips in ohangla-like movements allegedly in the name of the Lord but really to seduce the pastor.
Although the spirit is willing, the flesh is often weak and some pastors fall for the trick. Previous solemn hymns like "What a Friend We Have in Jesus, Nearer My God to Thee, Guide Me O Thou Great Redeemer, It Is Well With My Soul, Count Your Many Blessings Name Them One By One, Sweet Hour of Prayer", have gone to the dogs, as they do not encourage seductive dancing styles. It is now Ndombolo ya Yesu time! Some women now invitingly wiggle their 'booty', leaving men weak in the knees.
A now retired white pastor of a famous church on Valley Road tried by all means to reconcile couples in his church over adultery but after several years gave up with the words, "God cannot solve the polygamy problem in Africa. It is an African problem and God is yet to provide a miracle, a solution to this problem."
Another pastor's wife was so overwhelmed and enraged with illicit relationships in her church that during one of her sermons, she shouted at the culprits hysterically and warned them to leave. In a sermon entitled, "Second Wives", she lost control of herself as she shouted: "Second wives, traitors, husband snatchers, go away! We don't want you here! Go home!" Some single women swaggered out of the service as 'first wives' clapped loudly and shouted hallelujahs.
Keen listeners of local FM radio stations will have heard single women calling in to seek advice following botched relationships with their pastors. "My Pastor has made me pregnant. It all started when I had problems with my fiance. We got very close after I told him everything and one thing led to another. Please pray for me," one young woman recently lamented to a radio presenter on air.
So electrifying are pastors that some single women can hardly finish a sentence without saying, "My pastor this, my pastor that! I have to ask my pastor first! My pastor says we should do this!" For them, being led or leading the Man of God into a temptation is a walk in the park. Perhaps polygamy should crawl out of the church closet so that co-wife slaps can replace hand claps as few married women are clapping for the Lord anyway.
Related Topics