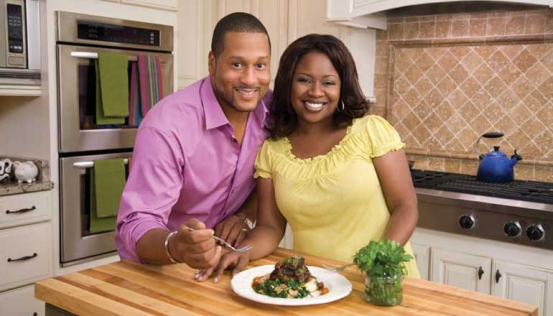 Just the other day, this magazine reported a story in which a wife in Mulot, Bomet County stormed her mother-in-law's house to protest her hubby's obsession with her (the mother-in-law's) food.
Petty as it may sound, women who don't take the maxim, 'The way to a man's heart is through his stomach,' seriously have lost their men to rivals with better culinary skills.
This sad reality painfully downed on the newly married woman, believed to have horrible cooking skills, when her husband shunned her food and opted to be eating at his mother's house.
Wife protests hubby's obsession for his mother's food
Tables were, however, turned on the man, identified as James Bett, when his wife, Florence, discovered he had been sneaking to his mother's house for meals and only ate his wife's as a 'top up' in the spirit of family and as a show of solidarity.
The woman expressed her fury rather robustly by storming her mother-in-law's house, which is a stone's throw away, to read her husband the riot act, demanding to know why he prefers his mother's food to hers.
"What kind of a man are you? You insist on eating at your mother's house, yet you have a wife who cooks for you! You are such a mama's boy! If you don't like my food, just say it," the woman was quoted by a neighbour as having spat in a lengthy vernacular tirade that brought business in the home to a standstill.
"Bett had become notorious for skipping his wife's meals, especially dinner. In some instances he only 'tasted' it as a decoy to avoid drama and abandoned it, claiming he did not have appetite," said Philip Sigei, a neighbour to the home.
According to Sigei, Bett, seemed not to like his wife's cooking at all. And tired of suffering in silence, he began passing by his mother's house for meals after work.
Wives with horrible cooking skills
"He is a last-born and fond of his mother's cooking and always hangs around to be fed, something his wife hates and could not take anymore. She even threatened to leave him, so that he could go back to live with his mother and enjoy her meals," said Sigei.
As expected, the supposed mama's boy got support from his mother who defended him, urging his 28-year-old wife not to 'catch feelings' because her31-year-old son had a right to eat in her house. To make matter worse, the aging woman suggested that her son's wife should start going to her house for cooking tutorials! The drama that ensued is a story for another day.
Curious about the incident, Crazy Monday went round asking random men their culinary preferences between their wives' or mothers' cooking. Interestingly, a huge percentage confessed they like their mother's or grandmother's food more than their wives'.
For some, like Olago, he likes his mother's culinary skills because, among other reasons, she prepares a wide range of varieties.
"My mother's any day! Unlike my wife, she prepares 'proper meals'. I prefer her cooking because she prepares more traditional, tasty, hearty meals than my wife," he said, adding that mothers, unlike sulky wives, always serve you with love any day, any time. Many other men said their mothers hardly serve 'ready meals' and are diverse with not just the delicacies, but cooking styles.
Why men love their mum's dishes
"Good thing with my mother is that she knows and cooks what I like and prefers natural and fresh foods," said Timothy, adding that unlike most wives who are always in a "hurry to you-don't-know-where or to-do-what" and whose preferred method of cooking is boiling, our mothers and grannies always take their time and can fry, bake, grill or roast.
"You can even request what you want cooked from your mother or granny. Wives, on the other hand, especially in the city, serve what they want or what is convenient to them. Most city men have to contend with eating what they are served, not what they want or request. For most, it's a dog's life! Some sulking city wives can serve you ugali, rice and chapatti, so it's up to you to choose what you will use as stew!"
He went on to say that the problem with wives and girlfriends is that they are fond of serving pre-prepared supermarket meals that have been kept in fridges for ages and lost their original taste.
"What I hate is this nonsense of wives passing of snacks like rice and spaghetti as proper meals or being served things that have been in the freezer for weeks," sneers Timothy.
Seemingly, the idea of men sneaking back into their mothers' houses for meals without wives or girlfriends knowing, for those who live nearby, is very common.
Fact that a good number of young women can't cook — and those who can, just won't — is an open secret. But just when we thought it was a Kenyan problem, we discovered men across the world seem to be going through the same. One thing women seem not to understand is that men are so particular with their food. So much that some have seemingly no longer trust younger women to handle their food.
Hotel where grannies are hired as chefs
Little wonder then that, some restaurants in New York City in the US only hires grannies as cooks!
"Young women across the world can't cook! Their Kenyan counterparts need not to panic because they are in great company. It's so serious that in New York, for instance, there are restaurants that enlist the services of grandmothers as chefs in their desperation to win more clients," said Martin Oduor, a Kenyan based in the US, during a Facebook chat with this writer.
According to Martin, Enoteca Maria, a restaurant he frequents, employs grandmas from various parts of the world to ensure clients sample authentic regional dishes. "The grannies take turns in cooking traditional recipes from their respective culture, offering patrons the chance to experience new and exciting dishes.
This has evolved into a culinary celebration of diversity, and people absolutely love it," said Oduor, adding that clients flock the restaurant from all over the world to see the famous grandmothers and try their centuries-old recipes.
Why husbands never complain about wives' bogus cooking skills
Interesting to note, however, is the fact that a good number of men are shy or scared to complain or protest their wives' bad cooking. They'd rather suffer in silence, than ruffle up feathers by complaining about their wives' horrible cooking skills and break up families.
"When her food is not up to scratch, I rather just eat and go look for a 'proper meal' at a hotel because complaining can mess up her mood or self-esteem and shake my marriage," Felix told this writer. He says he, however, can jokingly complain when her food is below par, but still that is very rare because it can hurt her feelings.
"Unlike some of my friend who tell me they flatly refuse to eat when their wives serve bad food, I prefer grudgingly eating as I playfully complain, urging her to brush up on her skills," said Felix.
Not surprisingly, arguments and criticism over food cause upsets in many relationships and marriages. Take, Helen Njambi, for instance. She said she tries her best to make her man happy and doesn't tolerate that nonsense of whining and men criticizing food.
"Food is food! At times men like complicating stuff, whining too much and creating mountains out of molehills. Personally, I would go mad if I knew my man sneaks back to his mother's house specifically for meals," Njambi asserts.
She says she knows of men who just won't confess, but are always itching to take their food to their mothers to cook for them instead of their wives. "But some mothers are to blame because they always throw a spanner in the works by inquiring from their sons if their wives cook properly," said Njambi.
Related Topics