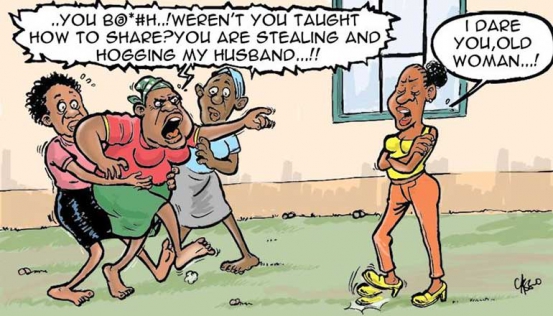 As a polygamist, managing to keep all your wives and children happy is a delicate balancing act that calls for diplomacy and Solomonic wisdom. This, however, is a fine art that a man at a village in Sigor, Bomet County is yet to perfectly master.
This reality was laid bare last Sunday when his two wives disgraced him and themselves by engaging in a nasty cat-fight, with one accusing the other of being "inconsiderate" and "greedy" for hoarding the shared husband.
The two co-wives caused an ugly scene as they exchanged slaps, blows and even tore each other's clothes, exposing their nakedness.
All had been okay, or so it seemed, until the first wife - only identified as Lucy and believed to be in her mid-40s - decided to furiously storm her co-wife's house, expressing her frustration for being short-changed.
According to Lucy, who was shouting for all who cared to listen, her co-wife, identified as Celine and in her early 30s, had contemptuously reneged on their prior memorandum of understanding. The MoU, she said, had, among other things, stipulated how they were going to alternately spend time with their husband, Arap Maswai.
"Enough is enough! You have now stolen my husband and he now only makes technical appearances in my house. He pops in for a while and leaves, claiming he will return, only to show up three days later," Lucy is quoted as having said, as she huffed and puffed.
While boiling with fury, she accused her of hoarding the man and using unfair and manipulative tactics to ensure he spends more time at her house, forgetting his other home which is in the same neighbourhood.
It was not clearly established what exactly the second wife was doing to ensnare the elderly man. It is, however, suspected that he is more madly in love with the second wife who is much younger. Or, she is perhaps not only a better cook, but also an expert in serving the 'other special food', forcing the first wife to play second fiddle in the pecking order.
Monopolising hubby's attention
"I cannot spend cold nights for days on end as if am widowed! Do you think he is all yours alone? You are in this marriage on humanitarian grounds, yet you cling on him and don't want him to leave your house," a furious Lucy is quoted as having raved and ranted as neighbours watched.
The fact that she had been consulted, as their tradition requires, before giving her husband the green light to marry the second wife, yet she came on board and relegated her in pecking order made Lucy furious.
"What made Lucy even more enraged was the fact that, as our traditions demand, she sympathised with Celine who was jobless and allowed her husband to marry her as a second wife, only for her to selfishly hog and monopolise the husband's attention," said a neighbour.
According to the source, most women who suspect their husbands of being overly randy in the locale give them the green light to marry second or even third wives in a bid to tame their libido and save themselves deadly diseases.
"Most of the women here prefer their husbands having another known woman on the side, so that when they are not home, they rest assured he is with the other woman," said the source.
Seeing as the polygamist was not present during the mid-morning drama, it was equally enraged female neighbours who intervened to separate the duo. They, surprisingly, sided with the first wife, accusing her co-wife of being a "husband snatcher".
"You should be ashamed of yourself, you have taken someone's husband and you don't even give him time to be with his other wife?" One of the locals is quoted as having yelled. But the remorseful Celine told them off, dismissing them as a bunch of jealous women.
Tension is still high between the two women, even as their husband promises to get them solve the matter amicably. The fate of the marriage is, however, not clearly known.
Related Topics