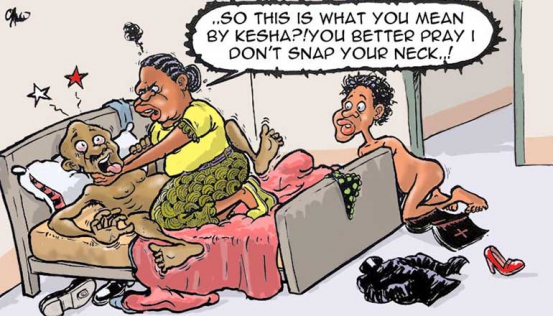 When Swahili sages are not under a tree, storytelling or sipping mnazi beer, trust them to come up with a naughty or cheeky saying.
When they, for instance, coined, "pia paka mzee hunyua maziwa (even old cats still enjoy milk)", they must have had an elderly pastor whose randy romps with younger members of his church were laid bare mid last week in Mulot, Bomet County.
The 54-year-old man of God (name withheld), who is now nursing serious injuries, had a dramatic end of the road after his wife busted and attacked him at a 37-year-old widow's home, after he had lied to her that he had gone to attend a kesha (night vigil).
The pastor, who is now the talk of the village, is romoured to have been having affairs with several female members of his church, including the widow, without the knowledge of his wife.
On several occasions, he is said to have been leaving his home every Tuesday and Friday after super, claiming to be going for a night vigil at his church, even on days no such function was on the schedule.
At times he would lie that he was going for door-to-door prayers to members of his church; something his wife didn't like, but could not stop him.
Attempts by his wife to accompany him on some of the visits bore no fruit, as he told her to mind the children.
When she insisted on accompanying him, he, at times, reportedly insisted that, unlike him who is covered by the blood of Jesus Christ, it was dangerous for her to walk at night.
His regular refusal to be accompanied by his wife, especially when going for the door to door prayers, made her suspicious.
Heartbroken wife
She was, however, shocked beyond belief when some of female friends, embarrassed of his behaviour, revealed to her that her husband was notorious for flirting and secretly hitting of other women, especially widowed ones.
The heartbroken wife set a trap by following him to one of his so-called 'night vigils' last Tuesday, only for him to, true to form, end up at one of the widow's home.
So infuriated was the wife that she pounce on him, screaming blue murder whilst making loud war cries. She clung on the pastor's neck, trying to strangle him before the widow came to his rescue.
It was reported that the furious wife grabbed a piece of wood which she used to attack the pastor, forcing him to flee before melting in the darkness.
The incident caused the widow a lot of embarrassment after her children and neighbours woke up, following the commotion and wails for help.
The scandalised yet apologetic man of God is said to have kept insisting he had gone to the home specifically for prayers, vehemently refuting claims that he had a secret affair with the widow.
News of the scandalous incident has seen his relationship with his wife, congregates and a neigbouring school where he preaches get ruined. The school has since terminated his contract with him and declared him persona non grata.
Related Topics