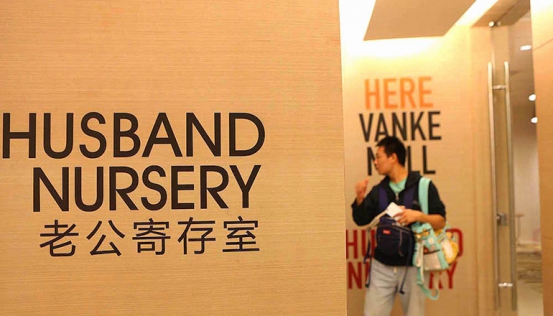 One of the things most men hate is going on long shopping sprees with their wives or girlfriends. To save men from this agony, a Chinese mall has come up with a "husband nursery", a special place where guys can kick back and relax while their better halves shop till they drop.
Just the same way mothers drop their young kids at the nursery to be looked after while they tend to their daily business, Chinese wives and girlfriends can now leave their male partners at the husband nursery of the newly-opened Vanke Mall in Shanghai.
Instead of having to put up with their grumbling and miserable-looking faces as they follow them around through dozens of shops, the men can be dropped off in this special room to kill time by watching TV, reading magazines, sitting in a massage chair or taking a nap on one of the comfortable armchairs.
Some of you will argue that men don't have to go shopping with their spouses if they don't want to – but we all know that's not true – or that malls already have relaxation spaces like bars and cafes, but this husband nursery has the advantage of being absolutely free.
And since it's aimed exclusively at husbands who hate long shopping sprees with their wives, it gives visitors time to socialise and cry on each other's shoulders.
It's not clear if the husband nursery has Wi-Fi or if the television has cable or simply shows a loop of products available in the mall (that would be one cruel joke), but it has definitely been drawing a lot of attention online.
Related Topics