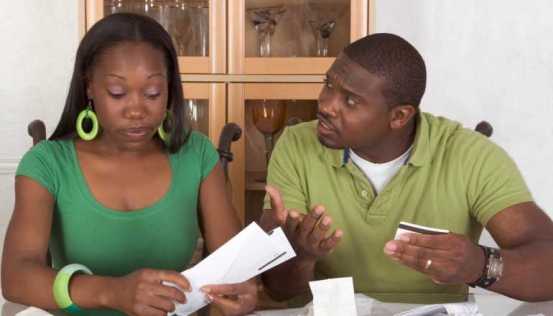 Regardless of whether you believe in a supreme being or not, you at least must believe in something. If you are male, a normal male with all the full faculties functioning like a well-oiled Subaru engine, you must believe in the doctrine of the man as the head and supreme provider in a household.
Even God had a strong reason to create man first, then the women came later. Regardless of our religious, racial, social and political disagreements on this one thing, all men vote on it as a bloc!
But despite that well-reasoned argument handed down to us by our forefathers, there are several belligerent fellows who still think it's an achievement, nay a major coup to live off a woman!
I cannot, despite my best effort, still wrap by brain around the fact that there are men with hairy armpits, wearing shoe size number 11 who shameless take advantage of the woman they pretend to love for the sake making money out of her.
Please let us not confuse matters here. I'm not talking about the young men who move around with sugar mummies. No.
Those ones are, in the first place, not men but boys in a reciprocal relationship and there are some sort of barter trade arrangements to their relationship, which is fair enough if you ask me.
My beef is with men who, perhaps out of being downright lazy bums or having an aggravated lack of unproductivity bar in the bedroom will sit back and live under a woman's roof, drink her whisky, watch her TV, lounge on her coach, borrow money from her, occasionally nick some from her, eat her food and even 'eat' her without an iota of feeling ashamed.
If you are this kind of a man, you do not deserve to sit at a table of men. You do not even deserve to be dangling those little black berries that you have been using as your passport to free food and accommodation in your woman's house.
Real men sweat it out in the race of life to provide for your woman and your children. Just how they sleep tight at night is a mystery wrapped in enigma.
What is most worrisome is the way these men gloat in front of other men. Talking boastfully how they have managed to get a deal out of the situation.
Meanwhile, I support Arsenal. A couple of weeks back; my beloved Arsenal was struggling to break down a small team in England that I cannot be bothered to remember its name.
paid bills
The game was coasting to a frustrating 0-0 score when out of a corner an Arsenal player bundled the ball home, deep into added time. It has been argued elsewhere that it was a handball and the game should have ended six seconds earlier.
I did really care much I enjoyed the moment. It actually felt like a stolen win, not elections. In football, as long as your team win, through hook or crook, it's fair game.
But, look, gentlemen, we cannot take football lunacy to the hearts of our women. No man should stand in front of other men and proudly announce that his bills are paid by a woman.
The only bill that a woman should pay for a male is when she is paying school fees for her son. Any other man living off a woman is culpable to economic and emotional terrorism!
These ticks that stick around women should really be a shamed of themselves.
Related Topics