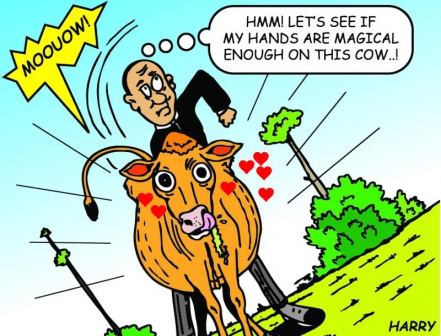 Behind almost every bush in this country, there lurks a naughty pervert harbouring ill intentions. The strange bit about it, however, is that pastors are no exception.
Against the backdrop of a clergyman whom, we reported last week, was caught peeping at village women as they bathed at a river in Bomet County, another pastor is at it again.
As if to outdo his Bomet counterpart and take the madness game a notch higher, a man of God in Kaila area, Siaya County was mid last week nabbed pleasuring a cow using his finger in a thicket.
While using a footpath through the bush, a resident, only identified as Washington, stumbled on the pastor, surnamed Owino, playfully using his finger to gain canal knowledge of the animal as it grazed. A shocked Washington could not believe his eyes. After he raised alarm, locals, armed with crude weapons, arrived at the crime scene, baying for the offender's blood.
"Immediately he realised I had busted him, the pastor took off as I shouted at him to get the attention of locals. We pursued and caught up with him as he tried to cross a flooded river. Had it not been the timely intervention of the area assistant chief, the man of God would not have survived the wrath of furious villagers who were roughing and beating him up," Washington told Crazy Monday.
good morals
Confirming the incident, area assistant chief, Gregory Odhiambo, noted that the suspect was a known clergyman and belonged to a church identified as Holy Promise Church.
However, leaders allied to the said church disowned him, asking the assistant chief not to associate them with him. "The man is a leader in a different church, not ours," Moris Onyango, a senior member of the church's council, complained. Echoing the sentiments was Gregory Odhiambo, another leader at the church, saying: "Our church has invested heavily in teaching good morals and we cannot be associated with such a pervert."
The two church leaders, however, later confessed that the pastor, who was unconscious, had worked at their church but left and begun his own ministry called "St Maria Chunyi Mtakatifu Roho Maler". The clergyman was taken to Luanda police station in the neighbouring Vihiga County, awaiting to be arraigned in court.
Related Topics