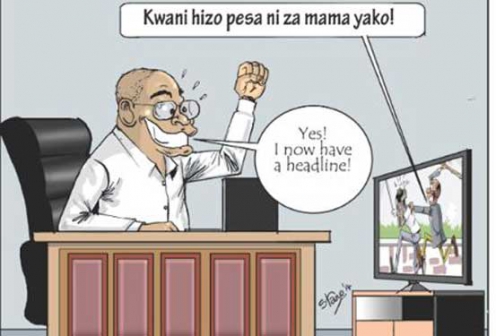 Unless you have been living under a rock, the country in campaign mode. The 2017 election is over a year away and every Tom, Dick and Hurry is running allover like a headless chicken, angling for this or that post. Daggers are now drawn, with Jubilee and Cord trading insults left right and centre.
If you have hopes of holding a political office come 2017, you better join the fray. However, to become a politician around here is no walk in the park. It involves blood, sweat and tears. But here is a manual for the all important political rascality.
First, the basics. To be a great politician in Kenya, bear in mind the electorate like fun-filled siasa, not boring issue-based politics. First, for heaven's, never, ever try being a gentleman (that's a reckless idea, and a sure fire way to instantly kill your political career).
If, unfortunately, the good Lord blessed you with a gentlemanly personality, incorporate aspects of hooliganism in your character. Put in another way, you must be a thug to win a political office around here.
When you get to the podium at a rally, first thing you must master is how to work the crowd. To throw them into delirium, start singing and dancing. And for special effect, dance completely offbeat to the rhythm. Dance as though you have two left feet! As for singing, do it utterly off-key. Soon, ululating village women will join you and wiggle their bottoms like crazy in your honour as youth cheer you on.
Speaking sense, singing and dancing properly will cost you an opportunity to be featured on popular satirical TV shows like Bulls eye, Truth Metre or Flipside.
To keep the crowd in high spirits, please, whatever you do, don't start talking about those boring things like how you plan to improve the economy and revamp this or that sector.
Boring things like peace, love, unity and cohesion are best left to pastors. Master the art of insults by coming up with remarkably nasty phrases like, "Hii pesa si ya mamako". Kenyans love such. In fact, they will turn it into a popular catchphrase.
Meanwhile, if you happen to attend same event with your opponent, don't, and I repeat don't, be nice or patient with them, or leave them to tarnish your name. Instead, take the bull by the horns by robustly expressing your displeasure. What better place to do this political rascality than at a function aended by the president?
Storm the podium, snatch the microphone from the offending opponent, begin yelling and trashing him to his face. For special effect, spit in his face. Mark you many other politicians are out there trying to outdo you. Thus, to ensure your incident is uglier than the rest so as to be a top item on Prime Time news, don't wait; go the whole hog and engage him in a physical fight. Or insult his mother. Hate speech my foot.
Alternatively, if you are smart, work ahead of time. Hire goons and hecklers. See, in politics if you can't dazzle your opponents with brilliance, baffle them with bull$#!£! When dung hits the fan, the worst that can happen to you is being summoned by police to record a statement. At the station's gate, journalists will be thrusting microphones in your mouth to say something. Use the opportunity to insult, dare or threaten your opponents.
If you accidentally end up at your rivals locality and unfortunately his (of course, hired) goons wreak havoc and heckle or stone you out of town like a certain disciple in the Bible, take cover. Await your turn to return the favour when he visits your locale. It is not like your opponent has a monopoly to hiring goons and cornered the market at planting hecklers in rallies.
When the going gets tough and you seem to be running out of steam, create a mountain our of an anthill. Make an outrageous claim. For instance, claim that your life is in danger. Or better yet, stage-manage your own kidnapping. Kenyan voters like drama.
Related Topics