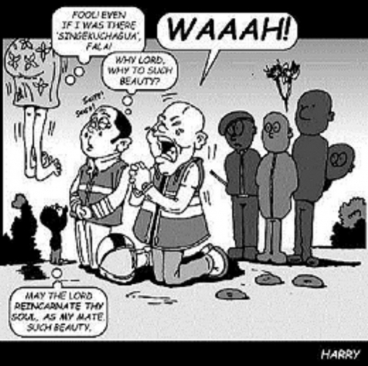 Death breeds grief, especially when it strikes a young life. But not all people cry to mourn the death, and this was witnessed on Monday last week at Ichuga village in Nanyuki.
A bunch of young men, most of them boda boda riders who happen to be strangers to the deceased and her family, converged at the base of a tree to mourn a 17-year-old girl who had hang herself.
Surprisingly, the youthful riders were not necessarily mourning the young life lost, but her supposed stunning beauty, or so it seemed, if some of their pronouncements were anything to go by.
The deceased had committed suicide allegedly after her boyfriend dumped her. Sources said the deceased lived with her sister in a rental house within a plot where her boyfriend lived.
"We heard them play loud music as we passed by their plot. But afterwards, there was a brief power blackout. Her sister revealed that she had been sending text messages to her boyfriend who kept ignoring her and only replied once, telling her that he had ended their relationship. The news broke her heart," said a source.
In a fit of rage, the jilted girl walked out of the house to an unknown destination, only for her body to be discovered later at night dangling from a eucalyptus tree in the locale.
The body was discovered by a boda boda cyclist. The rider reported the matter to the police, before he proceeded to the nearby Kiambiriria trading centre, where he broke the news to members of the public, mostly his colleagues.
Not yet married
The news that a stunning beauty had killed herself spread like wildfire, and within minutes, a huge crowd had gathered at the crime scene. The young men mourned at the scene, expressing their disappointment in the fact that such a beauty had to 'leave that way'. They assisted the police to untie her body from the giant tree.
"Why would such a beauty commit suicide because of love. How I wish I met her as she went to kill herself. I would have consoled her, and stopped her from hanging herself," one man was overheard saying.
Another one cursed: "It is so sad that I am young and not yet married, yet such a pretty woman could have been wooing decided to kill herself".
To show their frustration and mourn further, the young men took photographs of the girl's body and shared them on various social media platforms, including WhatsApp and Facebook.
One of the photos, which this writer saw, had been captioned, "This pretty thing killed herself because of a man. How I wish I was her man. I would never break her heart".
The frustrations were evident immediately after a police land cruiser left with the body. The youths walked back to Kiambiriria shopping centre where they held a kamukunji, condemning the estranged man.
"Huyo jamaa ni mjinga sana, lakini huo urembo wote umemtoroka sasa (The estranged man is such a fool, but the beautiful girl is dead and he will never see her again)," another said.
Related Topics