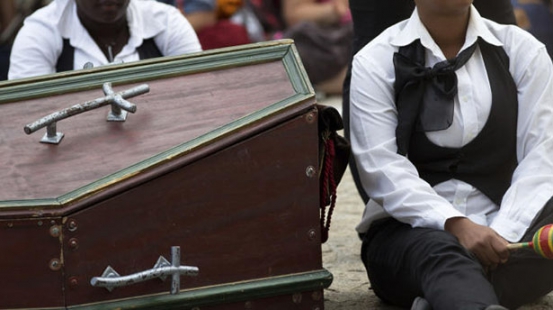 A little while ago, writer Jackson Biko attended the funeral of his father-in-law in some part of Central Kenya. While the mood at a funeral is usually sober, Biko was taken aback by what he thought was lack of 'proper' mourning among the local folks.
"The first thing that strikes you when you go for a Kikuyu funeral is the lack of tears. You have to understand, where I come from when we bring the body home it's compete bedlam! Utter chaos!
People meet the convoy kilometers from the boma and run alongside the hearse, chanting, waving leaves and sometimes running with cows. People wail; women, men, children, dogs, chicken, birds, goats...everyone! Wails rent the air. If it weren't for the casket, it could well be a political rally," he wrote.
Mourners hardly cry
Tears were so rare that Biko had the luxury of counting the number of times his better half cried; when the news of death was broken to her, at the mortuary and during the reading of the eulogy. So calm were the proceedings that he could as well have been attending a Sacco meeting, save for the elaborate photo session with the casket as a backdrop!
Funerals in many parts of Kenya are such a circus that has they have become a source of entertainment over the weekends. Some will go to great lengths to try and appease the dead, lest they return in fury to haunt the living. Feasting, singing, dancing and loud wailing are some of the well choreographed customs meant to give a 'warm' sendoff to the dead.
On the other end of the spectrum are some communities that have little time to mourn and will spend a minimal amount of time at a funeral. Foremost among these are our comrades from Central Kenya. What Biko witnessed is a true representation of a typical Kikuyu funeral.
No feasting
In contrast to days gone by, a Kikuyu funeral is conducted in a businesslike manner, and is supposed to take the shortest time possible! As a people who always run on a 'tight' budget, they will not go the extra mile in extravagance, buying an expensive suite for the dead, just to give a heroic sendoff to him. Or feasting. In any case, they say, has he not been promoted to glory?
"You must understand that times are hard. We loved our dear one when he was alive. We even did Harambees just to see him through the hospital, but he could not make it. Why spend more now that he is gone? Maisha lazima iendelee kwa walio hai," says Shiro*, a second-hand clothes dealer in Nairobi West.
The people from Nyumba ya Mumbi cannot understand what the fuss about a dead person is all about. To them, the dead should just be let to rest in peace. "What is this about spending a night or nights in the same house with a dead person before burial?
Why should we take weeks to bury a dead guy? Kwani we are waiting for his resurrection?" poses Kanyua, a father of one.
Graves devalue land
Some would rather transport the dead from their rural home to a cemetery in Nairobi to avoid devaluing their land, in the event they want to sell it. Others, would rather save on transport cost, if someone dies in Nairobi. According to Kanyua, there is no point spending inordinate amounts of time on a person who had little time for others when he was alive. A colleague to this writer who hails from the area related what happened when his brother died here in the city recently. Ordinarily, the young man would have been buried in his ancestral home that is only an hour's drive from the city.
However, there was the small matter of transportation and other related expenses of having a sizeable crowd gather at the homestead. My colleague made a suggestion to his folks.
"I told my parents that they were free to choose to bury my brother next to his small shamba back home or at Lang'ata Cemetery here in Nairobi. There was one condition though. If they opted to take him to gichagi (back home), then they would have to foot the entire bill since I was not in a position to do so. On the other hand, if they choose to have the funeral in Lang'ata, then I would cater for the expenses."
His parents did not have to think hard about the matter. "Ati umesema tukimzika hapa nyumbani gharama ni yetu, lakini tukija Lang'ata nutaweza kulipia?" asked his mother before a pause. "Tutakuja Lang'ata," she said with a note of finality. His brother was interred in Lang'ata within three days of his death.
Funeral tourism
To some fellows from central, attending a funeral is akin to treating oneself to a small outing. Recently, we accompanied a friend who had lost an auntie to her funeral near the Aberdares. Some in the procession who hail from the area felt philanthropic enough to treat the visitors to drinks at a local bar before the ceremony, "lest some people think we were in such a rush to bury the lady."
As you know, one does not just gulp down the frothy liquid in haste lest the stomach rejects its contents outright. Two hours later, the "mourners" were still in the local and only realised that the funeral was over when they saw city-bound vehicles zooming past the shopping centre.
To other people, the fact that morgues are now a feature in almost every locality, means the amount of time people would have spent transporting the body has been reduced.
Strike business deals
"My late cousin's body was preserved for a few days at a mortuary in Thika. The distance to my home is only 17 minutes. Why spend over two hours at a funeral when the fellow's eulogy could not even fill one side of a foolscap?" poses Tom who works in a local media house.
Another colleague from Rift Valley could not stomach the lack of emotion among Central Kenya mourners at a recent burial. He was so incensed that some guys actually took time off from the 'serious' funeral business to inspect a piece of land that was on sale nearby.
"They not only inspected the land but took the seller's contacts promising to get back to him the following week. I thought that was callous, but they thought I was just overreacting over a mere funeral." Needless to say that the 'ka-plot' conversation continued at a popular stopover joint in Thika later on the same evening.
Low turn out angers hawkers
In actual fact, funerals in many areas of Central Kenya have been turned into commercial ventures so much so that all manner of vendors track the daily obituary pages to see where their services might be needed within the region. John Githuku* was surprised to attend a funeral in Murang'a where vendors were complaining about the low turnout, not because of their concern for the bereaved but because their plastic seats would remain unoccupied.
Interestingly, John says that a few members of the funeral committee were also pitching for their business buddies to supply things like water, flowers, printing services and a public address system.
Well, there you have it. The next time you accompany a friend to a funeral near the mountain, don't bother carrying your dark sunglasses or worrying about the journey back home. For Kikuyu's, burying the dead is all in a day's work.
Related Topics